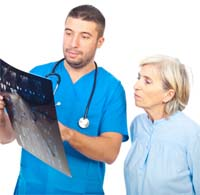 ...84% and 34% of long survivors, respectively, did not receive radical surgery or chemotherapy.
Raleigh, NC (PRWEB) September 08, 2014
Scientists in Australia have found that longer survival with mesothelioma is not always linked to specific types of treatments. Surviving Mesothelioma has just posted details of the new study. Click here to read the full story.
A study conducted by the Asbestos Diseases Research Institute on 910 asbestos-exposed people in New South Wales, Australia found that being under 70, being female, and having epithelioid mesothelioma all appear to improve the odds of surviving longer with the disease, even in those who did not have certain treatments.
"Patients undergoing extrapleural pneumonectomy or pemetrexed-based chemotherapy demonstrated better survival, but 84% and 34% of long survivors, respectively, did not receive radical surgery or chemotherapy," reports lead author Dr. Anthony Linton of the University of Sydney.
The study, published in the British Journal of Cancer, found a median overall survival of 10 months among study subjects, although a quarter of patients lived with mesothelioma for at least twice that long.
"Although it is clear that certain factors improve the odds, the exact combination of treatments and prognostic factors that determine mesothelioma survival odds remains a mystery," says Surviving Mesothelioma's Managing Editor Alex Strauss. "This should be encouraging news for people who do not necessarily fall into the best prognostic categories."
To read details of the newly published study, see Longer Mesothelioma Survival Not Always Linked to Specific Treatments now available on the Surviving Mesothelioma website.
Linton, A et al, "Factors associated with survival in a large series of patients with malignant pleural mesothelioma in New South Wales", September 4, 2014, British Journal of Cancer, Epub ahead of print, http://www.nature.com/bjc/journal/vaop/ncurrent/full/bjc2014478a.html
For nearly ten years, Surviving Mesothelioma has brought readers the most important and ground-breaking news on the causes, diagnosis and treatment of mesothelioma. All Surviving Mesothelioma news is gathered and reported directly from the peer-reviewed medical literature. Written for patients and their loved ones, Surviving Mesothelioma news helps families make more informed decisions.