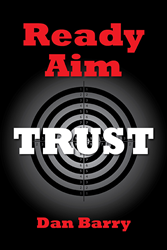 "This is a must-read for anyone considering a career in law enforcement."
Las Vegas (PRWEB) September 09, 2014
From working as an undercover cop at a high school to collaborating with the FBI on a political corruption case, Dan Barry's new memoir, "Ready, Aim, Trust," offers an unprecedented look at 30 years of policing in one of the nation's most dangerous cities, Las Vegas.
This book follows Barry as a young rookie working the violent streets in 1980 through his retirement as captain in 2010. He describes the daily in-and-outs of policing, the rush he gets when tracking down felons, and his dedication to "protecting the good citizens from the bullies."
While "Ready, Aim, Trust" is primarily a behind-the-scenes look at policing, Barry also shares firsthand advice that he believes can improve American policing and foster better leaders. His tips explore the importance of truth and transparency, including "Find time to talk one-on-one with your people" and "Being popular cannot be a benchmark in determining leadership."
"You will laugh, tear up, and be indignant when the details of these unique experiences give you a glimpse into human nature and the encounters those who protect and serve endure," said Colleen Harrington, associate faculty of criminal justice at the University of Phoenix. "This is a must-read for anyone considering a career in law enforcement, who has aspirations to advance in their own career, or who has roles of leadership."
To purchase "Ready, Aim Trust," visit http://www.readyaimtrust.com. The 312-page paperback retails for $18.00 and was published by Classic Day Publishing in 2014.
About the author: In February 2010, Dan Barry retired from the Las Vegas Metropolitan Police Department after 30 years of service. He is now the campus college chair for the College of Criminal Justice and Security at the University of Phoenix in Las Vegas. He graduated from the University of Nevada with a master of arts in ethics and policy studies.