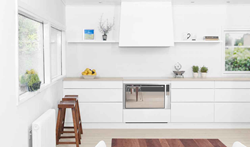 Buyers are looking for a light, fresh, and clean home.
Chicago, IL (PRWEB) September 06, 2014
In hopes of seeing a great month of home sales in September, Peoples Home Equity has put together a list of helpful tips for selling a home.
Make It Easy for the Buyer to Visualize
De-personalizing the home is important. White, cream, or off-white walls give a sense of open space for the buyer. Dark paint gives a completely different personality to a home; bright colors like white reverberate positivity. Buyers are looking for a light, fresh, and clean home. In addition, picture frames and family ornaments can be distracting. Instead the seller wants the buyer to focus on themselves and wonder where they would like to place family belongings after they purchase the home.
Remove the Clutter
A messy home with lots of a clutter is a fast way to push buyers away. A quick way to getting rid of clutter is to ask yourself, "Do I need this?" If not, consider donating it to a local Goodwill or Salvation Army to share with the community. Make sure kitchen counters are clear from unnecessary objects like notes, pens pencils, and appliances. Tables, couches, and dressers should not have any accessories laying on them. Picture the home looking as great as the model viewed before your purchase. If there are simply too many items to remove, move items to the basement or attic, or consider using a storage unit.
Make Sure the House Is Clean
This probably seems the most obvious, but some individuals consider homes cleaner than others. Even if the house seems clean, make sure it is. A buyer may be turned away by all the dust in the air. Vacuuming and dusting before someone looks at a home is critical. Surprisingly, many individuals do not care to clean a home while it's on show, but keeping the bathrooms clean is especially important. In addition, remember to wax the floor, wash the windows, polish faucets and mirrors, and clean the refrigerator. Even the scent when a prospective buyer walks into a home is important to set the tone as to whether he or she wants to purchase the property.
Make Sure Everything Works
This sounds just as obvious as keeping the house clean, but some home owners forget to patch holes in the wall, replace cracking flooring, or repair leaky plumbing before showing of their piece of real estate. Expect buyers to try lights in the home and open and close doors to make sure they function properly.
Gardening
The façade of the property should look inviting. Real Estate agents may call this "curb appeal." Home owners should invest some money for perennial flowers or add some bushes near the front door to create a nice entrance. Make sure the lawn is cut and weeds are removed.
If looking to purchase a home, consider a Peoples Home Equity loan officer today at: 262-563-4026