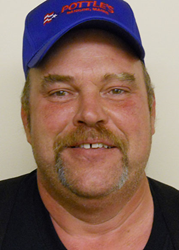 I saw young people, black smoke pouring out of the vehicle, and no one was stopping. I didn't know if there were disabled people on that bus, or infants, or what.
Alexandria, Virginia (PRWEB) September 08, 2014
The Truckload Carriers Association (TCA) is pleased to name professional truck driver Jon Wilbur of Phillips, Maine, as a Highway Angel. An owner operator who is leased to Pottle's Transportation, LLC, of Hermon, Maine, Wilbur fought a bus fire and moved the passengers to safety before the flames got out of control.
It was June 4, 2014, at about 7:30 a.m. Wilbur was travelling eastbound on the New York State Thruway near Portland, New York, when he saw a large bus on the side of the road. It had blown a tire and caught on fire.
The 18 passengers – some young adults, high school students, and a few children – were in the process of disembarking and grabbing their belongings from the cargo hold. The two drivers were standing just inside the door, seemingly unsure about what to do.
Wilbur stopped his truck six or seven lengths ahead of the bus and returned to the scene, bringing his fire extinguisher. He started spraying on the driver's rear side, but, after emptying the contents onto the flames, went to the passenger front side and asked the two bus drivers – who had not attempted to help – if he could use their fire extinguisher. They gave it to him.
At this point, the flames intensified again. Wilbur realized the passengers were standing too close to the bus, so he asked them to move a safe distance away as he continued to fight the flames. However, it was a hopeless situation – the engine, drive tires, and cargo hold had already begun to catch on fire. Soon, the bus was fully engulfed. The New York Highway Department eventually arrived and took over, leaving Wilbur free to continue on his way. However, many believe that his selfless actions and leadership skills are the reasons why no one was hurt.
When asked why he decided to stop and help that morning, Wilbur, a long-time professional driver who is currently an owner operator, said, "I saw young people, black smoke pouring out of the vehicle, and no one was stopping. I didn't know if there were disabled people on that bus, or infants, or what."
For his good deeds, TCA has presented Wilbur with a certificate, patch, and lapel pin. Pottle's Transportation, LLC, also received a certificate acknowledging that one of its drivers is a Highway Angel.
Since the program's inception in August 1997, hundreds of drivers have been recognized as Highway Angels for the unusual kindness, courtesy, and courage they have shown others while on the job.
To nominate a driver or learn more about the program and its honorees, visit the Highway Angel Web page at http://www.truckload.org/Highway-Angel or Facebook page at http://on.fb.me/tcanews. For additional information, contact TCA at (703) 838-1950 or angel@truckload.org.
# # #
TCA is the only national trade association whose collective sole focus is the truckload segment of the motor carrier industry. The association represents dry van, refrigerated, flatbed, and intermodal container carriers operating in the 48 contiguous states, as well as Alaska, Mexico, and Canada. Representing operators of more than 200,000 trucks, which collectively produce annual revenue of more than $20 billion, TCA is an organization tailored to specific truckload carrier needs.