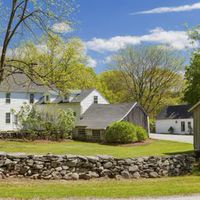 Pompano Beach, FL (PRWEB) September 08, 2014
Renee Zellweger's Connecticut farm is for sale and featured this week on the Top 10 Homes Spotlight at TopTenRealEstateDeals.com.
"Renee Zellweger's Connecticut Farmhouse"
Currently filming "The Whole Truth," to be released next year, Academy Award winning actress Renee Zellweger first drew the film industry and public's attention when she appeared with Tom Cruise in the film "Jerry Maguire." Another standout was "Bridget Jones' Diary," where Renee worked long hours with a voice coach to perfect her British accent and even went so far as to get an undercover temporary office job in England so she could absorb how the average British single woman lived. All of the hard work has paid off in critical acclaim for her acting skills and has garnered her multiple Academy Award nominations, one win and three Golden Globes. Renee, currently with 38 film roles to her credit, has earned an approximate net worth of $45 million, making it possible to pick and choose her future projects.
While most movie stars seem to love the spotlight, Renee Zellweger is rather private. Rarely seen in public except when promoting a new film, her personal life has remained somewhat of a mystery. Renee's private farm home retreat in rural Connecticut speaks volumes about her off-screen personality and values.
Certainly not the taste of "Bridget Jones," Renee's 39-acre, 1770's farm, The Cotton Tavern, in Pomfret, Connecticut is very much what her fans might expect from the small-town Texas super star. Uncomplicated and practical in a pastoral setting, the Colonial-style home is over 3,400 square feet with three bedrooms, seven fireplaces, a wood-paneled library, swimming pool, country kitchen, guest home, 2,000-square-foot barn, post-and-rail fence, stone walls and lush gardens with views of the Quinebaug River. Over the 8 years that Renee has owned it, she has restored and renovated it into a modern showpiece, but through her appreciation of its past history, has preserved much of the original farm and home. Fields are well tended; the sparkling turquoise pool across the lawn, the big barn turned into a recreation building, and the house have retained the original charm. Rooms are now scaled to fit today's life style while retaining the warmth and character of days gone by.
As Renee might have said when viewing the farm for the first time, "It got me at 'Hello'." For sale at $1.6 million. The listing agent is Joanna Dresser of Christie's International Real Estate.
Visit TopTenRealEstateDeals.com for more celebrity, historic, famous and spectacular homes.