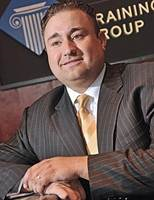 It makes us proud that we produced over 500 entrepreneurs who are helping small businesses across the country procure financing to grow their business
Albany, NY (PRWEB) September 08, 2014
Inc Magazine's famous Inc. 500 list, which profiles the fastest growing private companies in America, recently named Commercial Capital Training Group and its CEO Kris Roglieri one of the fasted growing companies in the education space for 2014. Commercial Capital Training Group has trained over 500 entrepreneurs whom go out and help businesses and commercial real estate investors secure financing. The company has grown over 69% in three years and has added over 27 jobs. Banks and some of the America's top private finance companies like Ondeck Capital and Kabbage use Commercial Capital Training Group's certified commercial loan brokers to promote their lending products and find businesses needing capital. Two out of the forty five lenders that participate in CCTG's program are companies that Roglieri directly owns. Graduates of their 7 day program come from all over the country to the company's headquarters in Albany, NY to be educated and meet the lenders they will be working with.
CCTG's founder and commercial lending financier Kris Roglieri said " It makes us proud that we produced over 500 entrepreneurs who are helping small businesses across the country procure financing to grow their business." Roglieri is no stranger to success in the finance world. Between the two commercial lending companies Roglieri owns, they have funded over 1 billion dollars worth of transactions to date.
When asked about the future growth plans of CCTG the company indicated that they now provide marketing services to the graduates of their program to reach clients in need of financing.
Commercial Capital Training Group has been the industry's premier training organization, which has been featured in Forbes, Entrepreneur Magazine, Fox Business News, Bloomberg and in many other news organizations.