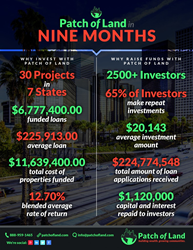 Patch of Land grew its business 275% in 3 months ending August 2014
(PRWEB) September 08, 2014
The dog days of summer are over, but Patch of Land didn't feel the effects. The peer-to-real estate (P2RE) crowdfunding portal has taken advantage of healthy market conditions to produce 275% growth over the past three months. The volume of loans pre-funded then syndicated through the e-commerce powered platform has grown substantially as real estate crowdfunding continues to make waves in the real estate and financial industries.
Patch of Land uses crowdfunding to rebuild neighborhoods by partnering with successful developers. Participating developers crowd fund short-term real estate debt, which is then syndicated to accredited investors and institutional funds. This emerging strategy allows investors to diversify into real estate without the headaches associated with property management.
"As Patch of Land continues to scale, our main objective is to keep providing top notch services for borrowers seeking funds for rehabilitation and construction projects, as well as offering quality cash-flowing opportunities to every accredited national real estate investor on our platform", says Jason Fritton, Co-Founder and President.
Patch of Land has gained traction with both residential real estate professionals who require funding for property rehabilitation across the country, as well as with investors who quickly fund the residential real estate investments on their debt-based crowdfunding platform.
The company is preparing for a full calendar of events in September, including IMN's Crowdfunding Forum, The Lending Exchange, and debuting a new digital due diligence engine at FinovateFall 2014, the world renowned financial and technology conference. Fritton continues, "We stand by our motto of building wealth and growing communities. We are committed to bringing bringing ease, efficiency, access and transparency to the process of real estate private lending, and participating in the growth of the online marketplace lending industry."
About Patch of Land
Patch of Land is a Peer-to-Real-Estate ("P2RE") lending marketplace that matches accredited and institutional investors seeking high-yield, short-term, asset-collateralized investments to borrowers seeking more timely and consistent sources of funding for rebuilding properties across America. Based on past performance, investors have enjoyed higher yields compared to other widely available short-term instruments, without the hassles of real estate management.
Patch of Land solves the problem of inefficient, fragmented, and opaque real estate private lending by using technology and data-driven processes to create transparency and to efficiently underwrite loans for borrowers with real estate projects that are routinely bypassed by traditional lenders. For more information about Patch of Land, and to register as an investor or as a borrower, visit http://www.patchofland.com.