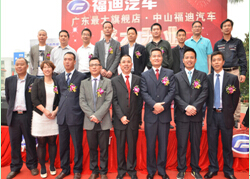 (PRWEB) September 10, 2014
Guangdong FODAY Automobile Co.,LTD, a reliable supplier of high quality cars, has recently released its new items for worldwide clients. According to the company's marketing specialist, all these high-end cars are now offered with great discounts. Additionally, the firm has shared useful tips on how to become successful with people worldwide. Its advice is as follows:
a. Select a suitable site. A good location is essential. It is better for people to set up a company in the heart of the city.
b. Do some market research. Those who want to be successful businessmen should know well about local customer needs and consumption level.
c. Pay attention to government policy. You need to figure out if your business is authorized by the government. On this point, FODAY sets a good example. The company always adheres to the latest government policy and has successfully set up its new branch in Zhongshan, China.
d. Hire qualified employees.
The company's top experts encourage worldwide people to remember the above points and put them into practice.
Note: Guangdong FODAY Automobile Co.,LTD is a famous vehicle supplier. It specializes in manufacturing SUV and Pickup. For more information, please visit http://www.fodayauto.com.
Guangdong FODAY Automobile Co.,LTD
http://www.fodayauto.com
FODAY Auto We Chat No: fodayauto
Email: fodayglobal@163.com