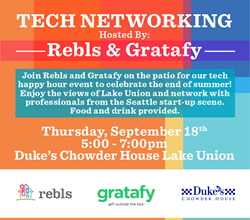 "It's sooo good!"
Seattle, WA (PRWEB) September 16, 2014
Duke's Chowder House Lake Union is excited to announce a partnership with Seattle startups Rebls and Gratafy for a fun evening of tech networking.
Seattle's reputation as a tech and startup hub is firmly cemented. With the growth of companies in these sectors, there's also a need to grow the number of opportunities for people who work in tech and at startups to connect with each other. As part of this community, Rebls and Gratafy are happy to host events for their peers to meet and mingle in fun, relaxed environments.
Duke's Chowder House Lake Union is located in the heart of South Lake Union, where many local tech companies and startups call home. To celebrate their neighbors and the end of summer, Duke's is pleased to host those currently working or interested in working in these sectors on their deck on Thursday, September 18th to sample Sustainable Seafood and DukeTails.
Full event details:
Tech Networking Hosted by Rebls & Gratafy
Thursday, September 18th
5:00-7:00PM
Duke's Chowder House Lake Union
Food and drink samples provided
About Duke's Chowder House
Dedicated to bringing its customers the best every day, Dukes Chowder House operates six restaurants throughout the Puget Sound region and boasts membership of 165,000 in its popular email club. Founder and Owner Duke Moscrip – together with his son and partner John Moscrip – continue their passionate journey to source all natural, healthy and fresh ingredients. Duke's food is free of hormones, antibiotics and free of harmful chemicals. Moscrip pioneered the concept of "ice chilled, better than fresh seafood." Duke's is an upscale casual Pacific NW seafood concept offering signature, flavorful, 100% sustainable wild seafood, Award Winning Chowder and grass fed burgers in a gathering place that is friendly, comfortable, unpretentious and filled with personality. Guests sum up their favorable assessment of what Duke's Chowder House has to offer with three words: "It's sooo good!" Learn more and join the email club at Duke's Chowder House email club.
About Rebls
Rebls is a new real estate service that connects homeowners and buyers directly. For homeowners, Rebls lets you see who's shopping for your home without listing it for sale. For buyers, Rebls gives you access to PreMarket homes you can't find anywhere else. If a potential deal arises, Rebls introduces you to our partner agents who will help close a deal at a reduced commission. Request an invite to Rebls' Seattle Beta at http://www.rebls.com.
About Gratafy
Gratafy (http://www.gratafy.com) is an award-winning mobile gifting service that lets consumers and merchants alike send menu items and digital gift certificates from restaurants and bars as gifts to friends, family and customers for instant gratification. Gratafy has formed partnerships with over 500 restaurant and bar locations in the U.S. Founded in 2011, Gratafy is a privately-held company based in Seattle. The Gratafy app is free and available for download in the App Store or on Google Play.
###
Media Contacts:
Tina Carey
Duke's Chowder House
206-349-4297
Adriane Holter
Rebls
206-920-8319
adriane(at)rebls(dot)com
Elise Berst-Perkins
Gratafy
206-383-4365
elise(at)gratafy(dot)com