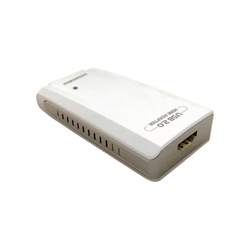 (PRWEB) September 07, 2014
Hiconn Electronics is an outstanding computer peripheral manufacturer; it has various kinds of high end products for sale. Recently, the company has unveiled its new designs of USB 2.0 to HDMI Adapters.
The company's sales manager states that "we are excited to release our new USB 2.0 to HDMI Adapters. Owing to the new production line, our productivity has increased a lot. That means a lower than average price on each item. Thus, we'd like to offer discounts for our new products. Those who place an order before September 30 can get a discounted price."
Here is some detailed information about the new adapters:
--Video output with HDMI connector
--Support function: 1. Primary 2.Extended 3.Mirror
--Easily connect additional monitors by using a USB 2.0 cable
--Simple to install & use
--Support resolution up to 1280x1024, 1400x1050 at 32 bit color
--Support up to six simultaneous displays
--Support Windows 2000 SP4 / XP SP3 / Vista SP1(32/64 bit) / Windows 7(32/64 bit) and Mac OS 10.4 or above
Moreover, Hiconn Electronics has decided to explore its effluence in the online market. "For better or worse, globalization is a fact of modern life; the online market is very important for every electronics supplier. This is why we pay close attention to online business. Many clients are satisfied with our excellent products and services," the sales manager adds.
About Hiconn Electronics
Hiconn Electronics (Shenzhen Hiconn Electronics Co. Ltd.) is devoted to designing and manufacturing a wide range of connection cables and customized cable assemblies, offering many HDMI cables, VGA cables, SATA cables, USB cables, 1394 cables, DVI cables, SCSI (Small Computer System Interface) and more. For more information, please visit http://www.hiconn.net/.
Contact Person: James Yin (Sales Director)
Company Name: Shenzhen Hiconn Electronics Co., Ltd.
Address: Shenghua Building., Xixiang Road., Baoan District, Shenzhen, Guangdong Province, China
Zip Code: 518102
Tel: +86-755-8109 8345
Fax:+86-755-2779 3497