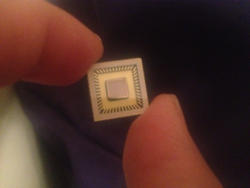 Palo Alto, California (PRWEB) September 10, 2014
Anitoa Systems, ("Anitoa"), a Palo Alto startup since 2011, today announced the availability of the industry's first 3e-6 lux ultra low-light CMOS Bio-optical Sensor and solution kit for portable medical and scientific instruments. Anitoa's single chip CMOS Bio-optical Sensor is capable of detecting 3e-6 (or 3x10-6) lux narrow band light at 550nm with 20nm bandwidth with a better than 13dB signal to noise ratio (SnR) in the operating temperature between -25 to 85 oC, consuming only 30mW.
Anitoa's new ultra low-light CMOS Bio-optical Sensor enables the realization of low-cost and portable medical or scientific instrument. An example of such is a field-portable Nucleic Acid Test (NAT) system to identify infectious pathogens. This CMOS Bio-optical Sensor is a very small (5mm x 5mm) and ultra-sensitive image sensor IC (integrated circuit) manufactured with mature and low cost semiconductor technology, and enhanced by Anitoa's Intelligent Dark-current Management algorithm. Capable of 3e-6 lux detection threshold, this small size CMOS Bio-optical Sensor will replace the bulky and expensive PMTs (Photon Multiplier Tube) and cooled CCDs widely used today in molecular diagnostic instruments, such as Nucleic Acid Test (e.g. qPCR) and protein/antibody analysis (e.g. ELIZA) equipment. These instruments utilize fluorescence or chemiluminescence signaling principle for molecular sensing to achieve superior sensitivity and specificity. Applying the same sensing principle, Anitoa's CMOS Bio-optical Sensor enables a new breed of portable molecular diagnostic systems that can be deployed in the field and allows physicians to respond timely to potential epidemic or even pandemic diseases globally by prescribing highly effective treatments and targeted antibiotics or anti-viral drugs.
The health care community has long realized the urgent need of a globally affordable and field-deployable molecular diagnostics solution to rapidly and accurately identify infectious pathogens. Case in point, the recent Ebola outbreak has created global fear and demanded for such a diagnostic device.
Anitoa's CMOS Bio-optical Sensor enables the development of affordable, portable, and highly accurate medical devices and scientific instrument. The use of CMOS Bio-optical Sensor manufactured with mature and lower cost semiconductor technologies make the solution affordable and highly robust, suitable for deployment at a variety of low resource settings, such as in developing countries. Combining the small size of Anitoa's Bio-optical Sensor with the advancement of the microfluidic technology, Anitoa's solution can help achieving miniature molecular diagnostic system with features and versatility comparable to much larger diagnostic systems in today's labs. This in turn will help the broad adoption of advanced nucleic acid test (DNA, RNA) or protein (antibody) test to allow precise identification of specific type of virus or bacteria behind a specific infectious disease.
Availability
Anitoa's single-chip CMOS Bio-optical Sensor is available in the form of a "Solution Kit" for customer evaluation and early adoption. This Solution Kit includes Anitoa's ULS 24 CMOS Bio-optical Sensor IC, an interface board, and integrated Intelligent Dark-current Management algorithm. This single-chip solution kit can readily interface with a PC or tablet device via USB, or Bluetooth. Application notes of using ULS24 for DNA quantification and qPCR are also available from Anitoa's website.
The solution kit is priced at $1,500 each. Volume production of Anitoa's ULS24 CMOS Bio-optical Sensor kit is estimated at 2Q15.
Anitoa's Benefit
Anitoa's solution enables a wide variety of compact, low cost, yet highly accurate medical and scientific instruments that are traditionally implemented with bulky, expensive PMT's and cooled CCDs. When applied to field portable molecular diagnostic systems, Anitoa's solution allows physicians and healthcare professionals to obtain diagnostic results at point-of-care in a matter of tens of minutes instead of days or weeks from a centralized lab. Thus, they can respond much more quickly with life-saving treatments, such as targeted antibiotics, and slow down the spread of drug-resistant bacteria and viruses.
About Anitoa
Anitoa Systems, established in 2011 with headquarters at Palo Alto, California, develops highly-integrated CMOS system-on-chip (SoC) products for a new generation of medical and scientific instruments. Anitoa's molecular sensor technology, consisting of a CMOS Bio-optical Sensor and proprietary Intelligent Dark-current Management algorithm, enables compact and field-portable NAT (nucleic-acid-test) platforms targeting at infectious diseases.
Anitoa's founding team consists of principle engineers and lead scientists in electronics, software, optics, biochemistry, and clinical diagnostics. Anitoa executive team members have played leadership roles in well-known Silicon Valley IT and biotech companies such as Philips, ST Micro, Agilent, SST, Promega, Chiron, and Novartis.
Anitoa partners with Zhejiang Nano-systems Institute (ZCNI), and the First Affiliated Hospital of Zhejiang University in China for clinical application validation and field deployment in that region.
For further information please contact:
Sales & PR Contact:
Anitoa Systems, LLC
http://www.anitoa.com
408-887-6026
info(at)anitoa(dot)com