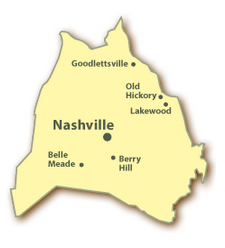 Investors seem to have already jumped on the pricing opportunity of zip code 37208
Chicago, IL (PRWEB) September 07, 2014
Peoples Home Equity, a lender based in Nashville's Willianson County, was intrigued by the housing performance of the local adjacent county: Davidson.
Accordingly to DQnews.com's "Nashville Home Sale Activity" median home sale prices rose 10.2% year-over-year in the 2nd quarter and home sales rose 6.6%. Davidson County is located in the heart and center of the Nashville area. Top two performing areas within Davidson in terms of median home sale prices were downtown Nashville zip codes: 37219 at 43.2% and 37207 at 27.6%. Subsequently 3-6 top performing zip codes 37115, 37216, and 37215 respectively grew 22.1%, 20.7%, and 18.8%. However, home sale growth in these areas was rather stagnant. The top two areas (37219 & 37207) respectively grew -5.9% and 8.8%. Zip codes 37115, 37216, and 37215 respectively grew -12.7%, 2.0%, and 2.0%.
Home sale growth was especially impressive in zip codes: 37217, 37080 (Joelton), 37211, 37201, and 37218 which respectively saw 103.7%, 68.8%, 36.2%, 31.8%, and 31.7% growth. However, these areas that showed tremendous growth in sales lagged in terms of median home sale price growth. Respectively these areas showed price year-over-year changes of: -1.3%, -0.7%, 4.8%, -0.2%, and -11.3%.
There were areas that showed a healthy balance of home sale and price growth. Goodlettsville, zip code, 37072 witnessed prices rise 17.3% which home sales rising 13%. Also zip code 37207, just south of Goodlettsville experienced a 27.6% rise in prices and an 8.8% rise in home sales.
In terms of worst price performance which investors may be interest in: Whites Creek, declined -49.% with home sales falling -28.6%. The median home sale price of a property in White's Creek was $75,500 in the 2nd quarter. Investors seem to have already jumped on the pricing opportunity of zip code 37208 which experienced a -23.7% decline. Home sales in this area have rose a whopping 30.8%!
One should note that prices are rising more than sales. Given the national shortage inventory of real estate along with relatively low mortgage rates, Peoples Home Equity encourages prospective mortgage applicants to finish their paperwork quickly to know if they are approved for a home loan or not. Once approved, applicants also find out how much funds they may borrow for a purchase which may better filter their search for a property in terms of prices. If considering purchasing a home in the Nashville, Peoples Home Equity has many branch locations in the area.
Contact a Peoples Home Equity loan officer today at: 262-563-4026