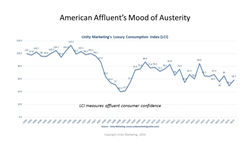 The USA is the world's largest luxury market, but today Americans have discovered a brand new way to express and live luxury. Marketers need to understand 'Luxe American-Style.'
Stevens, PA (PRWEB) September 09, 2014
While the emerging luxury markets like China with their rapid growth, may make the news, the United States remains the world's largest luxury market many times over, reports Unity Marketing. America boasted 7.1 million millionaires in 2013, nearly three times the total number of millionaires as China (2.4 million), according to statistics compiled by Boston Consulting Group as reported by Fortune magazine. Further, industry sales of personal luxury goods is estimated by Bain/Altagamma in its 2013 Luxury Worldwide Market Report to have reached €62,5 billion in 2013, which is nearly 3.5 times bigger than the next largest market, Japan.
"The United States is without doubt the most important market for luxury goods and services," says Pam Danziger, president of Unity Marketing and author of a new report on the state of the American luxury market. "It used to be, like the song said, 'if you can make it there, you can make it anywhere,' but not anymore. American affluents have discovered a brand new way to express and live luxury. It isn't like it used to be back in the glory days before the great recession."
Luxury is culturally specific and what is luxury in London, Paris, Tokyo or Hong Kong is not necessarily luxury in the United States. A new style of luxury is evolving in America. To succeed marketers need to understand the mindset, shopping habits and purchase behavior of America's 7.1 millionaires and the 18 million other affluents with discretionary money to spend. Unity Marketing's Luxury Report 2014, is the marketer's guide to this huge potential market.
Austerity is the mood of American affluents
Austerity is the mood of today's American affluent consumer, this based upon surveys conducted every three months among n=1,250+ affluent U.S. consumers about their attitudes toward their personal financial situation and their luxury spending and purchase habits. "The Luxury Consumption Index (LCI) which measures affluent consumer confidence has shown no sustained upward movement since 2009 into early 2010, as the economy was rising out of its recession funk. Since then, however, the LCI has dipped to near recession lows three times. While affluent American's financial confidence differs depending upon where they fit into the economic pyramid, the end result is the same -- conservative, back-to-basics spending," Danziger explains.
HENRYs, the high-earners-not-rich-yet mass-affluent with incomes $100k-$249.9k, are expressing austerity by trading down to less premium brands and shopping destinations, saving their luxury indulgences for an occasional experience, like dining or travel or a special occasion visit to a luxury department store. But for day-to-day purchases they favor mass-to-premium brands, not luxury.
The higher-income Ultra-affluents ($250k+) feel empowered financially, yet their spending has gone undercover toward inconspicuous consumption. When they indulge, they favor invisible luxury brands, such as Goyard, as opposed to the ones everybody knows and recognizes, such as Louis Vuitton or Gucci. They are also buying luxuries for the home (fine art, furniture, luxe kitchen appliances) where they can enjoy them in privacy or with guests (wine & spirits). And they are ordering online where deliveries come by Fedex, and they won't be seen carrying Barney's, Saks or Neiman Marcus bags.
American luxury has a brand new style
The austerity mood is profoundly impacting the brands and styles American affluents favor. Austerity means a trend toward the practical, simple and plain, as opposed to the gaudy or showy or ostentatious. These new austere brands range from the high-end (Fischer Voyage and The Row) to low (Everlane and Warby Parker), many sporting made in America roots.
But brands don't have to be made in USA to capture the austere mood of the American affluent, Danziger notes. "Last season's 'IT' coat in New York City was the Japanese Uniqlo Ultra Light Down jacket. This year it is going to be bigger than ever, as the trend spreads across the heartland."
Millennials are demanding luxury brands unique to their generation
Increasingly the Millennial generation, born from about 1980-2000 with the leading edge of the cohort (34 years) reaching middle age and their peak income years, are looking to brands that capture their unique mood and spirit. The brands favored by their Baby-Boomer parents' generation won't do. "Heritage luxury brands need to reinvent themselves for this younger generation. These brands need to be introduced in a new and fresh way to this younger generation and not be stuck in some time warp from the last century."
Danziger points to the new Saint Laurent brand, under the direction of GenXer Hedi Slimane, as an example of a luxury brand creating an on-ramp for Millennials. "By dropping the Yves from the brand name and opening a new flagship store on Rodeo Drive, Slimane is keeping the YSL-edge, but reinterpreting it for a 21st rock 'n roller," Danziger says.
Marketers need to understand Luxe American-Style
Danziger concludes, "The old ways of marketing luxury brands are not going to cut it in today's uniquely American, hyper-competitive luxury market with today's more austere-inspired, value-oriented American customers. Luxury marketers need the latest research to help them understand luxe American-style. They need new insights into this new luxury consumer, uncover how they are shopping today and what they are willing to pay for the luxuries that they still will indulge in - but in a new, dynamically different way. The Luxury Report can be your guide."
About Pam Danziger & Unity Marketing
Pamela N. Danziger is an internationally recognized expert specializing in consumer insights for marketers targeting the affluent consumer. She is president of Unity Marketing, a marketing consulting firm she founded in 1992. Pam received the Global Luxury Award for top luxury industry achievers presented at the Global Luxury Forum in 2007 by Harper's Bazaar. Luxury Daily named Pam to its list of "Women to Watch in 2013." She is a member of Jim Blasingame: The Small Business Advocate's Brain Trust and a contributing columnist to The Robin Report.
Pam's latest book is Putting the Luxe Back in Luxury: How new consumer values are redefining the way we market luxury (Paramount Market Publishing, 2011). Her other books include Shopping: Why We Love It and How Retailers Can Create the Ultimate Customer Experience, published by Kaplan Publishing in October 2006; Let Them Eat Cake: Marketing Luxury to the Masses-as well as the Classes, (Dearborn Trade Publishing, $27, hardcover) and Why People Buy Things They Don't Need: Understanding and Predicting Consumer Behavior (Chicago: Dearborn Trade Publishing, 2004).