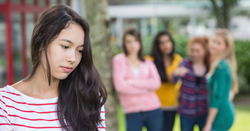 It doesn't make sense to always brush bullying behavior as 'boys will be boys' or 'It is a rite of passage'. Bullying breaks spirits and damages lives beyond measure.
London, UK (PRWEB) September 11, 2014
In recent years, stories of bullying have been covered more often in the news. Stories are breaking out of youth and teens taking their own lives as a result of being bullied. It is time to uncover the layers of youth bullying with NoBullying's guide released today.
The guide starts by highlighting the fact that almost half of all children in the USA experience some type of bullying during elementary or secondary school. 10%, according to the article, are bullied on a regular basis. Bullying Campaigns may be present in every school, but are they effective?
Bullying is the act of one individual using intimidation to dominate another individual he or she sees as being weaker. The bullying person hopes to get what he/she wants by coercion or physical force. Also, bullying can take the form of verbal or emotional abuse and intimidation. With the growing popularity of the internet, it has become a playground for cyber bullies that use email, chat rooms, or sites like Facebook as platforms for attacking their peers.
In general terms, boys are apt to use physical force and tactics when they bully someone. Girls are more inclined to use verbal abuse, and other forms of continuous harassment like rumor spreading.
Another aspect of bullying the guide warns against is when parents discover their child is a bully.
Unchecked bullying behavior is the gate to more ongoing negative behavior, such as criminal activity, developing positive personal relationships could be a problem, as well as good working relationships in the work place.
A type of bullying somewhat unique to schools is pack bullying, It most typically takes place in high school. The group action could be jocks going after nerds, or popular mean girls attacking the less attractive or popular.
Pack bullying can take place in cyberspace or in person. In person bullying happens in various venues, including school yards, hallways, classrooms, or sports fields or courts. The victim can always tell who is bullying him and it usually stays within school grounds, unlink cyber or electronic bullying where the bullying follows the victim 24/7 everywhere. Both can have a catastrophic result on a young person's psyche. A victim of continuous bullying often ends up with self esteem issues, desperation, suicidal thoughts and failure to communicate successfully with others in the future.
Ciaran Connolly, Co-Founder of NoBullying.com, said "It doesn't make sense to always brush bullying behavior as 'boys will be boys' or 'It is a rite of passage'. Bullying breaks spirits and damages lives beyond measure. If we continue to neglect school bullying and cyber bullying, what kind of new generations are coming into the world?"
He added that parents and teachers should make a point to educate the younger generations about the sad outcome of bullying online and offline. According to Connolly, it is quite imperative to press for more firm laws condemning all acts of bullying and harassment.
NoBullying.com features many pages dedicated to parents, teens, teachers, health professionals as well as posts related to cyber safety and the latest news about law making concerning curbing Bullying worldwide as well as inspirational Bullying Poems and famous Bullying Quotes.
The website regularly updates its bullying statistics and cyber bullying statistics as it is essential to understand how widespread the bullying epidemic is. It also regularly runs cyber bullying surveys and questionnaires to get recent updated statistics on everything related to cyberbullying.
He also added that anyone suffering from bullying in any form or way can always find advice and help on the NoBullying website – but if anyone is suffering from severe bullying or cyber bullying, the best thing is to talk to someone locally – a parent, teacher or local organization that has been set up to help with specialized councilors to deal with this topic.