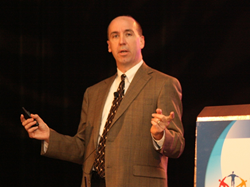 We live in amazing times and our world is about to become even more amazing in the near future due to a plethora of game changing technologies.
Portland-Vancouver, OR (PRWEB) September 08, 2014
When it comes to the future of energy, futurist Jack Uldrich has plenty to say: "From the outside, the utility industry may appear to slow, cumbersome and resistant to change. These characterizations may or may not be fair, but I do know the industry is poised for extraordinary change in the years ahead and that what has served the industry well in the past won't be sufficient for remaining competitive in the future."
Just what will keep the energy industry ahead of the game is precisely the content of Uldrich's keynote to the Western Energy Institute's Annual Meeting on September 8th in Kelowna, British Columbia.
Western Energy Institute (WEI) is a regional association serving the electric and gas industries, both public and private, throughout the Western United States and Canada. Based in Portland, Oregon, WEI was formed in October 2000 from two longstanding industry associations - the Western Electric Power Institute (WEPI) founded in 1908, and the Pacific Coast Gas Association (PCGA) founded in 1893.
WEI's membership is comprised of 70 energy companies, including gas pipeline, electric and gas distribution, electric generation, power marketers and over 175 industry service providers. WEI offers a member-driven, open learning environment to develop effective leaders and ensure well-trained employees.
WEI has chosen Uldrich, a highly acclaimed futurist and public speaker whose aim is to help them and their member companies thrive in increasingly competitive energy markets. Uldrich has worked with a number of companies and dozens of trade associations in the utility industry including Southern Company, SDG&E, SMUD, Eaton, BP, the National Rural Electric Cooperative Association, Missouri River Energy, Northwest Energy, Idaho Power and the Northeast and Northwest Public Power Associations.
Uldrich's presentations have been described as "inspiring, thought provoking, motivational, and practical all at once—with a huge dose of practicality intricately added to the mix." All of which is needed for the future of the energy industry. Following his keynote for WEI, Uldrich will be addressing leaders in finance at AgBank in Minneapolis, the PMMI in Chicago, as well as the The National Council for Continuing Education & Training in Denver, among others.
Parties interested in learning more about him, his books, his daily blog or his speaking availability are encouraged to visit his website. Media wishing to know more about either the event or interviewing Jack as a futurist or trend expert can contact Amy Tomczyk at (651) 343.0660.