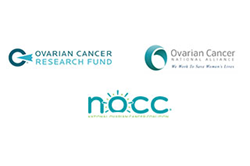 (PRWEB) September 08, 2014
A groundbreaking collaboration is underway among three national ovarian cancer organizations: Ovarian Cancer Research Fund (OCRF), Ovarian Cancer National Alliance (OCNA), and National Ovarian Cancer Coalition (NOCC). In partnership with Stand Up To Cancer (SU2C), this group will fund a new Ovarian Cancer Dream Team dedicated to piloting leading-edge, ovarian cancer research that will help patients and save lives.
This partnership was announced Friday night, September 5th, on Stand Up To Cancer's biennial telecast, and in recognition of Ovarian Cancer Awareness Month. The Stand Up To Cancer-Ovarian Cancer Research Fund-Ovarian Cancer National Alliance-National Ovarian Cancer Coalition Translational Research Dream Team grant will provide funding, over a three-year period, for research associated with this insidious disease.
Ovarian cancer is the deadliest of all the gynecologic cancers. Almost 22,000 American women will be diagnosed with ovarian cancer in 2014, and more than 14,000 women will lose their lives to the disease. By collaborating to fund an Ovarian Cancer Dream Team, OCRF, OCNA and NOCC, with SU2C, will further research in the field that can lead to new treatments and improved patient outcomes.
Later this month, SU2C through its Science Partner the American Association for Cancer Research (AACR), will issue a Call for Ideas from researchers and scientists worldwide. The selected Dream Team will be announced next spring, with research beginning in July 2015.
"Ovarian Cancer Research Fund has been the leading nonprofit funder of ovarian cancer research for years, and this new collaboration is a wonderful way to mark our 20th anniversary," said Audra Moran, CEO of Ovarian Cancer Research Fund. "We are excited that the Dream Team grant will continue our long tradition of supporting the most innovative research in the field, while providing scientists with a vital new source of financial support."
Calaneet Balas, CEO of the Ovarian Cancer National Alliance, said: "I am so thrilled that our three organizations are coming together to fight the disease we all care so much about. I believe the Ovarian Cancer Dream Team will be paradigm-shifting for our community, and I cannot wait to see what comes from this new initiative. We're proud of the work the Alliance has done to secure federal research funding on behalf of all women, but the Dream Team gives us new opportunities for collaboration and innovation."
"We are both proud and excited to join in supporting the Ovarian Cancer Dream Team, the first-ever collaboration of such efforts," said David Barley, CEO of the National Ovarian Cancer Coalition. "We are looking forward to being instrumental in furthering ovarian cancer research. The impacts on families and communities continue to make ovarian cancer More Than a Woman's Disease®. By working together we hope to make a difference in the lives of everyone we touch."
About Ovarian Cancer Research Fund
Ovarian Cancer Research Fund (OCRF), founded in 1994, is the oldest and largest charity in the United States funding ovarian cancer research, and ranks third in overall ovarian cancer research funding only after the National Cancer Institute (NCI) and the Department of Defense (DOD). Its mission is to fund scientific research that leads to more effective identification, treatment, and ultimately a cure for ovarian cancer, as well as related educational and support initiatives. OCRF has invested nearly $60 million in ovarian cancer research through 217 grants to scientists at 65 leading medical centers in the United States. OCRF continues to take the lead in funding the best and most promising ovarian cancer research while supporting women and their loved ones affected by this terrible disease in our quest to end it. For more information, please visit http://www.ocrf.org
About the Ovarian Cancer National Alliance
The Ovarian Cancer National Alliance is a powerful voice for everyone touched by ovarian cancer. We connect survivors, women at risk, caregivers and health providers with the information and resources they need. We ensure that ovarian cancer is a priority for lawmakers and agencies in Washington, DC, and throughout the country. We help our community raise their voices on behalf of every life that has been affected by this disease. For more information, please visit: http://www.ovariancancer.org
About The National Ovarian Cancer Coalition
Since its inception in 1995, the National Ovarian Cancer Coalition (NOCC) has been committed to raising awareness, promoting education, and funding research in support of women, families, and communities touched by ovarian cancer. Through its more than 20 chapter office nationwide, NOCC is well-established as an important advocate for patients and families struggling with this insidious disease. NOCC remains steadfast in its mission to save lives by fighting tirelessly to prevent and cure ovarian cancer, and to improve the quality of life for survivors. For more information, please visit: http://www.ovarian.org
About Stand Up To Cancer
Stand Up To Cancer (SU2C) raises funds to accelerate the pace of research to get new therapies to patients quickly and save lives now. SU2C, a program of the Entertainment Industry Foundation (EIF), a 501(c)(3) charitable organization, was established in 2008 by film and media leaders who utilize the industry's resources to engage the public in supporting a new, collaborative model of cancer research, and to increase awareness about cancer prevention as well as progress being made in the fight against the disease. For more information, please visit: http://www.standup2cancer.org
###
Ovarian Cancer Research Fund: Sabrina Valvo, svalvo(at)ocrf(dot)org, (212) 268-1002
Ovarian Cancer National Alliance: Amanda Davis, adavis(at)ovariancancer(dot)org, (202) 517-6402
National Ovarian Cancer Coalition: Joyce Monaco, jmonaco(at)ovarian(dot)org, (949) 385-6170