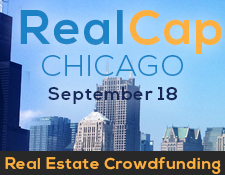 Chicago, IL (PRWEB) September 08, 2014
Jason Fritton, Co-Founder and COO of Patch of Land will speak on September 18 at RealCap Chicago, a real estate crowdfunding conference presented by the Soho Loft Media Group. The one-day event will take place at One Financial Place and is sponsored by local real estate crowdfunding platform American Homeowner Preservation ("AHP"). David Drake, Founder and Chairman of the Soho Loft Media Group will moderate the event with AHP's Founder and CEO Jorge Newbery.
RealCap Chicago is expected to attract a large audience of real estate entrepreneurs, providing an opportunity to network and explore real estate crowdfunding.
Fritton, a Chicago Native, was a lobbyist for the crowdfunding exemptions that were written into the JOBS Act. As an event speaker, Fritton offers perspective from more than ten years of experience managing and growing startup companies. Today, he leads operations for Los Angeles based Patch of Land with a focus on due diligence practices and client services.
Attendees of RealCap Chicago will have the opportunity to learn how to raise debt and equity for projects such as single-family fix and flips, commercial buildings and ground-up development projects. Fritton's platform uses peer-to-peer lending to connect accredited investors with a variety of real estate deals, including single-family fix and flips.
"Real estate crowdfunding has created an online marketplace with a multitude of projects for investors to browse through," said Newbery. "Platforms such as Patch of Land and AHP allow investors to invest in the rebuilding of communities through the restoration of distressed residential properties."
RealCap Chicago begins at 8:00 AM CST and features panels and workshops on topics such as How to Get Your Project Funded Online, Marketing and Publicity Strategies to Make Sure Your Projects Are Funded and How to Create Your Own Crowdfunding Platform. The event will be co-moderated by Drake and American Homeowner Preservation's Founder and CEO Jorge Newbery.
For more information or to register for this event, please visit http://www.realcapchicago.com.
American Homeowner Preservation is a socially responsible investment fund manager which empowers accredited investors to purchase equity in pools of distressed mortgages and earn returns of 9-12%. For further information or inquiries please visit https://ahpinvest.com or call 800-555-1055.