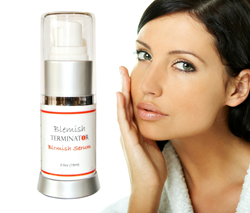 This new serum joins the other antiaging products at Sublime Beauty®.
(PRWEB) September 08, 2014
The Glycolic and Salicylic serum (Blemish Terminator Serum) from Sublime Beauty® is a perfect way to improve and brighten aging skin.
Glycolic is among the most popular and beneficial alpha-hydroxy acids (AHA) for skin. It lightly exfoliates, allowing new cells to be revealed. It helps with uneven skin tone or discoloration and at the same time unclogs and minimizes pores.
The Sublime Beauty serum is on 60% Off sale today at Amazon with coupon code S5R5FFBX.
The serum joins other anti-aging products offered by Sublime Beauty®.
Both Glycolic and Salicylic acids are beneficial anti-aging ingredients as they lightly exfoliate and encourage collagen production. They also help even out skin tone and photodamage as well as minimize pores. Salicylic also calms inflammation.
"The big discount allows many to test the great serum," says Kathy Heshelow, founder of Sublime Beauty®. "I have normal to dry skin and love what it does for my skin quality; it helps me manage my oily 'T-Zone' as well."
Those with oily skin can use the serum twice daily, and those with aging skin can use it 3 to 4 times per week. Glycolic is at 2% and Salicylic is at 3%.
The Blemish Terminator serum is being relabeled Glycolic | Salicylic Serum shortly, says Heshelow.
About Sublime Beauty\
Sublime Beauty® is a quality skincare company that focuses on products to "Age Younger". Ingredients help to boost collagen, hydrate, relax wrinkles and improve skin. A niche includes healthy Skin Brushes. The company webstore offers free standard shipping and a VIP Club. Sign up for Secret Sales on the site.