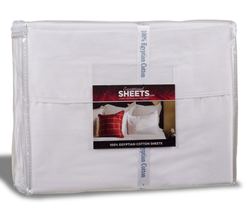 The price of Egyptian Cotton is continuing to rise every quarter, but as a business, we will continue to offer our low prices on all of our Egyptian Cotton bed sheets, duvet covers, towels and pillow cases
Evansville, IN (PRWEB) September 08, 2014
Despite last week's news that Egypt's cotton exports decreased by 69.7 percent in the third quarter of the agricultural season, eLuxurySupply.com's Paul Saunders says that his company's everyday low prices on Egyptian Cotton sheets, pillow cases, towels and duvet covers will not increase.
According to the Daily News Egypt, it is "due to the decrease of cultivated area as a result of farmers opting to grow other more profitable crops." They also reported that in June of this year, the Holding Company for Spinning and Weaving has losses at EGP 2.1bn for the financial year.
On September 1, the Central Agency for Public Mobilization and Statistics (CAPMAS) reported that they recorded only 109,600 metric Kentar exported, compared to the 346,200 metric Kentar exported during the same period of last year's season.
Saunders' company, eLuxurySupply.com, specializes in Egyptian Cotton products, and he says that although the company's costs will increase with the decreased exports, he doesn't want their customers to feel the sting of the increase in prices.
"The price of Egyptian Cotton is continuing to rise every quarter, but as a business, we will continue to offer our low prices on all of our Egyptian Cotton bed sheets, duvet covers, towels and pillow cases," Saunders said. "All too often, companies will react and burden the consumer with drastic and reactionary price increases, and we don't want to follow that trend," he said.
"As a company we strive to give our customers the finest luxury Egyptian Cotton products at prices that the average consumer can afford, and we aren't going to let that change," said Saunders.
eLuxurySupply.com is currently offering 10% off for all new customers by signing up for their newsletter on the front page of their website. Along with Egyptian Cotton sheets, the company offers their own line of mattress pads, comforters, pillows and nearly all other bedding items.
About eLuxurySupply.com
eLuxurySupply.com is a United States Veteran Owned and Operated company based in Evansville, Indiana that is quickly becoming one of the internet's most trusted and successful luxury superstores. eLuxurySupply is a Sam Tucker LLC owned and operated business, and for any questions, comments or concerns, please call 1-800-977-7433 or email service(at)eLuxurySupply(dot)com.