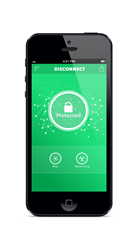 San Francisco, CA (PRWEB) September 08, 2014
Disconnect, a certified public benefit corporation and maker of popular open source privacy and security software, today announced the launch of Disconnect Mobile, which reduces the risk of identity theft by blocking malvertising—malicious tracking and malware disguised as legitimate ads or websites.
Malvertising is nearly impossible for consumers to identify because malicious tracking and malware often looks like a normal advertisement or website. Many consumers also do not realize that just visiting a webpage containing malvertising, without even clicking anything, can put them at risk.
A 2014 report by a US Senate Investigative Committee found that threats associated with malvertising increased by over 200% last year. In the same time period, more than 12 billion malicious ads were served. Malware attacks served through malicious advertisements and tracking harmed hundreds of thousands of consumers and over 50% of website publishers.
"The prevalence and rise of malvertising threatens consumer safety and the very foundation of the Internet economy," said co-founder and CEO Casey Oppenheim. "Until now mobile consumers have been unable to effectively protect themselves. We believe this product is a big win for users, and also for legitimate websites and advertisers who are being significantly harmed by malvertising and the increasing loss of trust in the safety of the Internet."
The technology powering the Disconnect app was designed by Disconnect's CTO Patrick Jackson, a former NSA engineer. "Disconnect Mobile offers unique threat protection at the network request level, so that users are protected across all their apps and mobile browsers", says Jackson. Disconnect Mobile works by blocking more than 5,000 tracking services and suspected malware sites from connecting to a user's device.
Google initially removed Disconnect Mobile from the PlayStore citing nothing more than "interference with other services", a decision that led to a deluge of global media reports and an uproar on social media. Google has not specifically replied to Disconnect's appeal or requests for comment by major media outlets. Industry consensus is that Disconnect Mobile was suspended because it was mistaken for an ad blocker, and so Disconnect resubmitted their app to make it clear that they are not an ad blocker and are focused on protecting consumer privacy. Disconnect Mobile is again available for install in the Play Store, as well as iTunes.
"We are not an ad blocker and we are not at all opposed to advertising," says Disconnect COO Gus Warren. "But we are 100% opposed to ads that threaten consumer privacy and security. We are committed to un-blocking any companies on our filter lists if we verify that they respect consumer safety and privacy."
Disconnect is demonstrating this commitment by formalizing criteria that will be used to determine whether a tracking or advertising service will be unblocked. As a first step, the company announced several weeks ago that it would generally unblock advertisers that commit to respect users' Do Not Track (DNT) preferences and agree to comply with DNT as defined by the Electronic Frontier Foundation: https://www.eff.org/dnt-policy.
In addition, Disconnect is also announcing today that it is working with TRUSTe, the leading Data Privacy Management company, to develop transparent rules to guide a process for whitelisting sites. This collaboration is a follow up to their successful launch of Privacy Icons, software that helps people quickly understand how websites handle their data.
Chris Babel, CEO of TRUSTe added: "As consumer trust hits a three year low there has to be a way for people to browse with confidence online and know which sites they can trust. We're excited to continue our partnership with Disconnect to develop guidelines for whitelisting sites on Disconnect Mobile and rewarding businesses with legitimate websites and apps for their commitment to consumer privacy."
About Disconnect:
Disconnect was founded on a basic principle: that it should be easy for people to understand data collection and control access to their personal information online. The company was started in 2011 by a consumer-rights attorney and former Google engineers.
Disconnect exists to help solve an important social issue and our founding principles are reflected in the way we run the company. We're proud to be a Certified B Corp.
Disconnect's top-rated apps for mobile and desktop are used by more than 2,000,000 people every week. Visit Disconnect on the web at https://www.disconnect.me/.
Disconnect Media Contact:
press(at)disconnect(dot)me