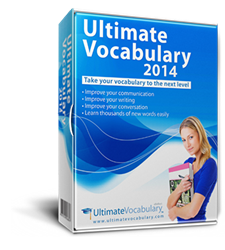 Even native speakers with decades of experience with the English language can benefit from regular review of English basics, because there's always room for improvement.
New York City, NY (PRWEB) September 09, 2014
eReflect, the company behind well-known software program Ultimate Vocabulary™, has published a blog post highlighting mistakes in grammar found in social media posts. The company hopes to sensitize social media users on the importance of proper language usage, even in the more casual environment of tweets and posts. eReflect is an ardent champion of proper language usage and its range of educational software has helped people around the world to improve their spelling, vocabulary, and reading skills.
eReflect is now shifting the public's attention away from the actual content of online material, and towards the numerous grammatical and spelling mistakes that get in the way of the message that content is trying to communicate. People often make mistakes on social media networks either because they don't check the text before they share their content, or because their language skills have gotten a bit rusty.
From common mistakes where people confuse "there" with "their" and "they're" to more serious ones like forgetting key words in sentences, eReflect stresses that even the smallest mistake can lead to problems. No matter the type of online publication, people need to be able to tell the semantic difference between the often confused words "then" and "than," and eReflect argues that social media users need to be more careful with their social media output than ever in this era of viral videos and critical audiences.
Although grammar mastery doesn't necessarily indicate that the author is an extremely intelligent person, it is how people will interpret the situation. People will judge someone based on their social media content and language use, so eReflect advises online authors that it is a good idea to improve vocabulary, perfect spelling skills, and brush up on grammar rules to ensure they avoid making embarrassing grammatical mistakes.
eReflect, developer of vocabulary software Ultimate Vocabulary™, asserts that people with a verbal advantage are more likely to attract wider engagement in their social media communities. More often than not, social media posts with misspellings and grammatical errors tend to attract negative attention and derogatory comments, rather than the positive engagement with customers that any online business looks for.
To avoid being blacklisted by readers and followers, eReflect encourages every social media user and blogger to double-check their social media posts and status updates before hitting "send" to catch any misspelling that might be lurking in the text.
Using a spellchecker and practicing fundamental English skills is another way to avoid making grammatical mistakes online, eReflect reminds readers. Even native speakers with decades of experience with the English language can benefit from regular review of English basics, because there's always room for improvement.
***********
For more information on how you can benefit from Ultimate Vocabulary, please visit its official website, http://www.ultimatevocabulary.com.
About Ultimate Vocabulary™
Ultimate Vocabulary provides a proven and powerful platform, built to improve anyone's vocabulary.
The interactive self-improvement system provides more learning tools than any other program on the market, as well as more information on words.
The Ultimate Vocabulary software provides each and every user with a personal computer tutor. Providing a step-by-step guide to learning a powerful vocabulary, Ultimate Vocabulary is the learning tool everyone can benefit from.
Of course, the software is also backed by eReflect's iron-clad money back guarantee.