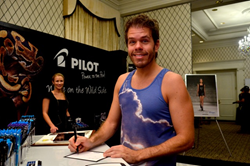 New York City, NY (PRWEB) September 08, 2014
GBK (gbkproductions.com) - the luxury lifestyle gift lounge and special events company, partnered up with Pilot Pen for a luxury gift and style lounge celebrating New York Fashion Week at the Empire Hotel, New York City. GBK's motto for this yearly event is "It's all about style!", and everything from jewelry to the ultra stylish array of writing instruments from Pilot Pen made the lounge a true highlight among the Fashion Week festivities.
Everyone from Perez Hilton, to Jonathan Cheban, to the Cast of Orange is the New Black and more attend the event and made sure to pick up their special gifts from Pilot Pen. Pilot Pen offers superlative writing instruments renowned for quality, performance, cutting-edge technology and consumer satisfaction. Guests received a FriXion Clicker, an erasable pen that is uniquely designed to write smooth and erase clean, making mistakes disappear and you – perfect! As well as the stylish MR Animal Collection of writing instruments that are designed to provoke your wild side while providing high style and delivering superior writing performance, and an elegant trifold Pilot Journal for your writing pleasure.
As guests arrived they were greeted by drinks from Partita Tequila and Svedka Vodka, the eclectic sounds of DJ Max Power (http://www.mattpreis.com) and wonderful floral designs from Floral Heights Flowers and Events. Floral Heights is located in Historic Brooklyn Heights New York and offers exquisite flowers and event designs for every occasion. Also contributing to the design of the lounge was BloomNation.com. Bloom Nation is the "Etsy for Flowers", allowing you to shop directly with over 2,500 top local artisan florists in more than 3,000 cities nationwide.
Highlights of the lounge included gifts from Presenting Sponsors Michael Todd True Organics and Hard Candy. Michael Todd True Organics® is an acknowledged leader in the rapidly growing organic skin care market. Guests took home SONICLEAR - the World's First Antimicrobial Sonic Skin Cleansing Brush and Sonic Eraser, the first ever serum infuser with a 3-in-1 sonic, ionic and heat based delivery system to maximize the benefits of hydrating skin products. Hard Candy is a lifestyle brand anchored by an edgy cosmetics collection that has redefined makeup in the mass market. In addition to a full cosmetic assortment, Hard Candy offers apparel, eyeglass frames, sportswear and more. Guests were treated to makeovers, makeup touch ups, hair and manicures during the event and were gifted an assortment of their makeup.
Guests received other goods and services ranging from fashion and beauty products, to exotic travel destinations and luxury lifestyle products including: gift certificates from Brow Art 23, a fully licensed eyebrow threading boutique; Art-inspired sterling silver jewelry from Cynthia Gale; EMK Beverly Hills, who was offering luxury Beverly Hills anti-aging skin care with exclusive plant placenta formulation; JeJu Sixteen Water – water that is naturally purified through 16 layers of volcanic bedrock; Glass Beads Woven Bracelets and Glass Beads Woven Tassel necklaces from LUMINITA; Palace Resorts in association with Caribbean Living gifted a four day/three night stay for two at the brand's signature property, Moon Palace Golf & Spa Resort; monogram necklaces from Jane Basch Jewelry; Gift certificates and SnapBacks from Robdechi; Hydroxycut Drops; Skinny Coconut Oil – the only 100% RAW, supplement grade coconut oil in the world from Skinny&Co.; a lovely collection of trendy jewelry, spa and bath products, fine art photography, and other handcrafted gifts from The Artisan Group® ; and edgy and sophisticated shoes from Princess London Shoes. Snacks were provided by Quest Nutrition Bars
No GBK lounge would be complete without a charitable component, and this year's beneficiary was Gabrielle's Angel Foundation for Cancer Research. Gabrielle's Angel Foundation for Cancer Research funds the nation's best and brightest scientific investigators with eighty-nine cents of every dollar raised directly funding doctors whose goal is to improve the efficacy of cancer treatments, reduce their toxicity and improve the quality of life of patients with leukemia, lymphoma and related cancers. For more information about the foundation, please visit gabriellesangels.org.
GBK, formerly GBK Productions, is a luxury lifestyle gifting and special events company, specializing in entertainment marketing integration. Formed in 2000 by Gavin Keilly, the company's Founder and CEO, GBK consists of five divisions: GBK Celebrity Gifting, GBK Special Events, GBK Weddings, GBK Charitable Consulting and GBK Marketing/Public Relations. Widely known in the entertainment industry for bringing that little extra something into the Gifting Lounge environment, GBK offers its clients a full range of marketing services. For more information on Gavin B. Keilly (CEO), Carla Domen (VP) or GBK, please go to gbkproductions.com.
###