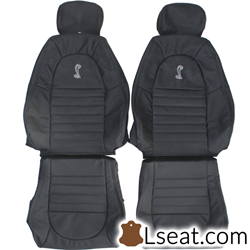 (PRWEB) September 08, 2014
Lseat.com, a well-known leather seat cover manufacturer and retailer, has recently added a new assortment of Ford leather seat covers to its product line. To top it all, the firm has announced its autumn promotion; all the new products are now provided at greatly discounted rates, from 12 to 28 percent off.
Lseat.com is selling more than 500 different kinds of practical items on its website. The company's brand new Ford leather seat covers feature intelligent trim lines to fit the user's particular model. They are offered in various colours to transform the look and feel of the vehicle's interior instantly.
"We are very excited to offer these high quality items for worldwide customers. They are all created by our cover experts according to the newest customer feedback. Each item in the new collection is excellent; I think you will like them. More importantly, these great products are on sale at the moment. Clients around the globe can enjoy the big discounts before September 16, 2014," the company's chief executive officer says.
Lseat.com is a reliable supplier devoted to providing affordable, top quality seat covers. A lot of the company's wonderful products (like Mustang Cobra leather seat covers and 2001 Ford Mustang SVT Cobra leather seat covers) sell well in the global market. Therefore, it has confidence in the newly unveiled items.
About Lseat.com
Lseat.com is a globally accomplished supplier of leather seat covers, and this company has developed into a modern enterprise that offers its customers around the world a one-stop seat cover solution. The business is committed to providing premium quality products at competitive rates. Now, it has been serving a large number of customers from over 70 countries.
For more detailed information, please visit http://www.lseat.com/.