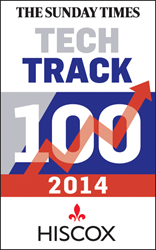 Our sustained company growth is testament to the outstanding quality of the work we do for our clients on a daily basis" said Paul Solomon, Edenhouse CEO.
Birmingham (PRWEB UK) 9 September 2014
Edenhouse Solutions announced today it is has been recognised in The Sunday Times Hiscox Tech Track 100 List, ranked at number 47, an impressive achievement for this first-time nominee. The 14th annual Tech Track 100 league table ranks Britain's fastest-growing private technology company, telecoms and digital media companies by their average annual sales growth over the last three years. Edenhouse join a distinguished band of British technology firms featured in past Tech Track 100s, including ARM Holdings, Carphone Warehouse, Moneysupermarket.com and Zoopla.
Founded in 2008, with offices in Birmingham, Farnborough and Manchester, Edenhouse supports businesses using SAP software and have recently introduced Microsoft Dynamics to their portfolio. The company provides implementations, enhancements and support, testing and hosted managed services for a diverse range of customers across the automotive, manufacturing, retail, financial and professional services, and public sectors.
The technology industry is constantly evolving, changing and growing at a pace many small businesses find difficult to manage. Many business owners find themselves focusing on the bottom line, but in order to grow the business and deliver true value, customers must come first. Edenhouse is a shining example of this philosophy; in fact their very first customer is still a client today.
With any business venture you'd expect there to be some ups and downs, but Edenhouse have had a remarkably smooth journey so far. However, it took a lot of groundwork to reach this point and this achievement is a direct result of having the foundation of a great team with a huge amount of experience to steer innovation and help eliminate risks. The power of a dedicated and cohesive management team has been one of the key driving forces behind the company's success and whilst the technology staffing markets are highly competitive, Edenhouse's corporate culture stands out as a major component in its ability to attract and retain top talent.
"We are delighted to receive this prestigious Sunday Times Hiscox Tech Track 100 accolade. Our sustained company growth is testament to the outstanding quality of the work we do for our clients on a daily basis," said Paul Solomon, Edenhouse CEO. "We are focused on helping our clients to develop strategies and solutions that address their business critical issues, enabling them to deliver real value to their organisations."
Paul continues, "Receiving the Tech Track 100 Award was an inspiring moment. There was an outstanding sense of pride that permeated through the entire company and it confirmed my belief that Edenhouse can continue on its amazing growth trajectory."
-END-
For further information please contact:
Jacqui Underhill
Communications Manager
Edenhouse Solutions
Cody Technology Park
Ively Road
Farnborough
Hampshire GU14 0LX
Tel: +44 (0)7764 774 285
Email: [email protected]
About Edenhouse
Edenhouse is a gold-level SAP partner and Microsoft Dynamics channel partner, authorised to sell both Cloud and On Premise software. With offices in Birmingham, Farnborough and Manchester they provide a complete service of software solutions from Licence, Implementation Services, Managed Services, through to Support and Maintenance.
Edenhouse have an extensive team of Consultants and Solution Architects, delivering solutions across the SAP and Microsoft product range. They pride themselves on having never lost a customer and have a well-deserved reputation for delivering on time and to budget for all of their service delivery areas.
http://www.edenhousesolutions.co.uk
About Fast Track
Fast Track has published league tables of top-performing private companies with The Sunday Times for the past 18 years. The company was founded and is run by Dr Hamish Stevenson, who also holds an associate fellowship at Green Templeton College, Oxford University.
League table criteria:
The Hiscox Tech Track 100 adopts the London Stock Exchange's (LSE) techMARK definition of a technology company as one 'that shows a commitment to innovation, research and product development, and operates in sectors including software, internet, telecoms and biotech'.
To be eligible companies have to be registered in the UK and be independent, unquoted and ultimate holding companies. For 2014, annualised sales have to exceed £250,000 in the base year (2010 or 2011) and £5m in the latest year (2013 or 2014). Companies also have to increase sales in the latest year, but do not need to be in profit. Companies are ranked according to the compound annual growth rate in sales over three years, based on their latest available figures.