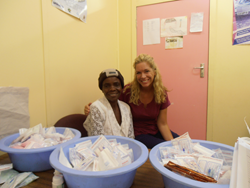 What if we could change death from being the 2nd leading fear in this country to one of the most sacred experiences.
Pine Plains, New York (PRWEB) September 16, 2014
The Truth About End Of Life Wishes: A National Gallup Poll by the Hospice Organization found that nine out of ten people who were terminally ill wanted to die at home. The same poll found that the number one fear of the dying patient is that they did not want to be a burden to their family.
"We have reached a time in our society that families do not know how to care for their dying loved ones anymore," said O'Brien. One hundred years ago, caring for the dying was a skill that was handed down from generation to generation. People died much younger and wakes were held in the living room. Today, people are living well into their 70's, 80's and 90's. As a result, we have become farther and farther removed from seeing the death process and knowing the necessary skills to take care of those at the end of life.
A Global Outreach- End of Life Doula Training teaches the skill of how to care for someone who is dying. The free, live, monthly webinar will go over the 3 phases of the end of life process, what someone can expect to see, and appropriate interventions to offer for comfort. There will also be a live Q&A after every webinar. "I hope that at least one person in every family takes this training," said O'Brien.
"End of Life is something that will touch us all. Our bodies tend to shut down the same way," said O'Brien. Whether you are in Zimbabwe, Africa or a mansion in Milbrook, New York. The wonderful reality about this is that we can teach one another what to expect and how we can help each other through the difficult time of saying goodbye to someone we have loved for so long.
Death Is Making A Comeback- Death has been a big topic in the last few years and more importantly-how we are doing it. Oprah's Super Soul Sunday on OWN has had many interviews with leading experts exploring death and the meaning of life. Articles "A Good Death" by Dan Kadlec Time Magazine August 2013 and New York Times article: "The New Old Age: Death Be Not Decaffeinated" by Paula Span June, 2013 both reference the death cafes that are popping up all over the world simply to offer a place for people to talk about death and dying.
Death is an inevitable part of our life's journey. With education, compassion and the right support, death can be the natural sacred experience it was meant to be.
Source: National Hospice Organization 1996 Gallup Poll
Please join Suzanne for additional END-OF-LIFE-DOULA Trainings and Live events.
Next Live event is September 27th and 28th in Jacksonville, Florida.
Visit http://www.suzannebobrien.com for more details
Email: teamsuzannebobrien(at)gmail(dot)com
Email: suzannebobrien(at)yahoo(dot)com
Phone: 859-230-6268
.