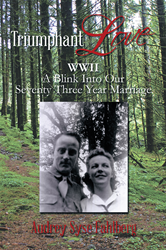 The grace of God gave us hope during that time and love for the Lord held our marriage together.
Forth Worth, Texas (PRWEB) September 08, 2014
It's September 1944. A pregnant Audrey Syse Fahlberg and her four-year-old daughter, Karen, are traveling by train from Wisconsin to Texas in the hopes of seeing Audrey's husband before he is shipped off to Italy for the United States military during World War II.
Although there are countless stories from veterans of the World War II era, not much is published about the soldiers' families back home and what they went through.
In Fahlberg's new book, "Triumphant Love," she narrates her journey as a wife and mother before, during and after her husband was drafted and sent overseas. Her story allows the reader to travel back in time as she details the hardships they faced as a family and joy as their soldier returned from war.
"My husband was a front line combat medic with the Tenth Mountain Division in Italy during World War II," Fahlberg said. "The grace of God gave us hope during that time and love for the Lord held our marriage together."
"Triumphant Love" reveals the untold story of the families of the Tenth Mountain Division and hopes to shed light on the struggles military families had while their soldiers were overseas, and how those struggles remain today. Fahlberg said, "There is still a need for support for young military families and people caring and respecting one another."
Fahlberg's husband, Dr. Willson Fahlberg, had always encouraged her to write about their story. After his death a few years ago, Fahlberg decided to look at her own aging as an opportunity and penned "Triumphant Love" at the age of 92.
Triumphant Love: WWII A Blink into our Seventy Three Year Marriage
By Audrey Syse Fahlberg
ISBN: 978-1-4931-6674-9
Available in softcover, hardcover, e-book on Amazon, Barnes & Noble and Xlibris online bookstores.
About the author
Audrey Syse Fahlberg was born and raised in Blachardville, Wis., and married Willson Fahlberg in 1938. They had four children, four grandchildren, five great-grandchildren and one great-great-grandchild together. She attended the University of Houston where she earned her honors in communication arts. Fahlberg then headed her own corporation for more than 30 years and managed to travel to 150 different countries. She lived in Houston, where her husband was a professor at Baylor College of Medicine, for 38 years, then in Del Mar, Calif., for 20 years. Fahlberg now resides near Fort Worth, Texas.
# # #