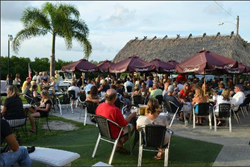 The Aluminum and Rattan Patio Chair is one of the most popular outdoor chairs
Cape Coral, FL (PRWEB) September 08, 2014
Leading commercial furniture distributor, Restaurant Furniture Supply recently helped Miceli's Restaurant upgrade their seating by supplying them with patio chairs.
Micelis Restaurant has great waterfront dining and daily specials. They serve seafood, prime rib, ribs & Italian food. The dinner menu has appetizers, soups, salads, sandwiches, burgers, pasta dishes, pizza, and seafood. They are located just before you go over the bridge into Matlacha, right on Pine Island Road.
Diners can sit in a tropical outdoor setting on a canal or inside with scenes of Italy painted on the walls. There's seating under the tiki hut and also picnic tables out in the sunshine. Outside, diners can enjoy live music, which plays most nights. They may also be able to see manatees or dolphins. The inside of the restaurant features comfortable booths and tables, murals of scenes in Italy, and a large aquarium with colorful fish. Micelis was voted as having the best happy hour out of all the Matlacha restaurants. It lasts from 11AM-7PM, with a power hour from 4-5PM, Monday-Friday.
The owner contacted to Restaurant Furniture Supply for new chairs because of their reputation for high quality at competitive prices", explained sales person Zach. "For new seating the owner decided to go with Restaurant Furniture Supply's Aluminum and Rattan Patio Chair with black seats. The chair is also available in brown or natural faux rattan. The commercial grade chair is made of strong aluminum and is ideal for patio dining or for use indoors. The lightweight chair is durable and is a great choice for any restaurant, bar or any dining location. It also stacks neatly for easy storage. The Aluminum and Rattan Patio Chair is currently on sale for $42 at Restaurant Furniture Supply.
"The Aluminum and Rattan Patio Chair is one of the most popular outdoor chairs" explained Zach, salesperson for Restaurant Furniture Supply. "They are very attractive comfortable and durable. They are ideal for outdoor seating and also look great indoors, making it a very versatile chair".
Browse Restaurant Furniture Supply's full selection of commercial grade chairs, bar stools, table tops, table bases, booths and patio furniture at http://www.restaurantfurnituresupply.com or talk to a customer service representative at (888) 346-9992.
Miceli's Restaurant is located at3930 Pine Island Road in Cape Coral, FL. They can be contacted at: (239)282-8233.