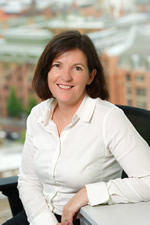 I am very excited to have the opportunity to work within the KSA group at the new Manchester office. We are now able to service clients right across the North West
Manchester (PRWEB UK) 10 September 2014
Turnaround and insolvency specialist, KSA Group, has opened a new office in Manchester to assist distressed businesses in the North West of England.
With offices in London, Edinburgh, Birmingham, Gateshead and Berwick Upon Tweed and now Manchester, KSA Group is continuing to expand across the UK. The new office, set in the heart of the city of Manchester, is a welcome addition.
With the new location in one of the UK's largest cities, they also have a new Regional Manager, Amanda Eckersley. Amanda has worked in insolvency for ten years, covering the full spectrum, including Bankruptcy, IVAs, Compulsory Liquidations, MVLs and Administrations. By joining KSA she can now focus on assisting businesses in and around the City, Greater Manchester and the surrounding areas.
Amanda commented, "I am very excited to have the opportunity to work within the KSA group at the new Manchester office. We are now able to service clients right across the North West, who will now be able to benefit from the groups highly professional and commercial approach."
Visit Amanda at KSA Group Limited, Chancery Place, 50 Brown Street, Manchester, M2 2JG.
or call on 0161 956 8671
Managing Director, Keith Steven, said, "I am delighted to welcome Amanda to our growing KSA team with her deep experience in insolvency and asset based lending. I am sure that she will be a valuable new team member and that she will help many North West businesses. The opening of our new Manchester office marks the next stage in KSA Group's growth and 'plugs a gap'. We now have very experienced Regional Managers in every main business area delivering innovative turnaround solutions."
KSA Group has been working with distressed companies for 17 years and is the owner of http://www.companyrescue.co.uk, a website dedicated to providing advice and guidance for struggling businesses. With such a strong 'rescue' ethos, consequently KSA had been nominated for Corporate Recovery Firm of the Year at the Insolvency and Rescue Awards 2014.