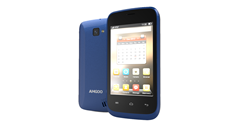 With Android 4.4, 3G, and Wi-Fi end users around the world will have access to everything the Internet and the Android app ecosystem has to offer.
Las Vegas, Nevada (PRWEB) September 09, 2014
AMGOO Telecom, a rapidly growing brand designer and manufacturer of innovative GSM, 3G, and LTE mobile phones for markets around the globe today announced the launch of one of their most robust entry-level smartphones to-date, the AM503.
AMGOO's AM503 is an entry-level smartphone designed to give end-users the ability to access the advanced features not available on traditional features phones, without sacrificing performance. Featuring an advanced chipset designed for performance and power-saving, the AM503 is an ideal choice for end users intent on upgrading from their feature phone. Running the latest Android 4.4 on its 1.2GHz processor, users will experience the best that a smartphone has to offer, with games, video, and apps, including Facebook and Whatsapp.
With the AM503's 1200mAh battery, users can talk for up to 7 hours, with an impressive standby time of up to 130 hours. Users will fall in love all over again with memories captured on its rear 0.3MP (with 2MP lense) cameras and viewed on its 3.5" HVGA display. With 802.11b/g/n Wi-Fi supported, users can stream music and video to their hearts' content, while saving on data costs.
The AM503 will be on show at Super Mobility Week by CTIA September 9, 10 & 11, 2014
Sands Expo and Convention Center / Las Vegas - BOOTH 2069
Key Features
Entry-level 3G Android Smartphone
Android 4.4
3.5" HVGA 320*480
Rear 0.3MP (2.0 MP Lense)
Dual-SIM Card Support
E-Books, Facebook, MSN, Whatsapp, Games,
FM Radio supported
256MB of internal memory
Extra optional storage up to 32G
USB mass storage and Bluetooth 2.1 supported
1200mAh battery
802.11b/g/n Wi-Fi supported
About AMGOO
AMGOO Telecom designs and manufactures innovative GSM, 3G, LTE, and CDMA mobile phones for markets around the globe. We combine advanced research and development with engineers from around the world with state-of-the-art manufacturing in our own facilities in Shenzhen, China to provide innovative, cost-effective solutions using local intelligence that benefits end-users and the operators and distributors that service them.