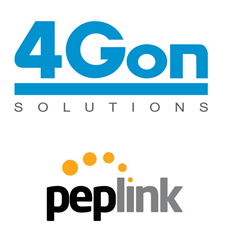 At 4Gon we are always working to identify, source and supply our customers with the best wireless technology available anywhere in the world. Peplink is a vendor with an innovative product family that we have been very impressed with for some time
(PRWEB UK) 9 September 2014
4Gon Solutions, a worldwide distributor of the highest quality wireless communications hardware, have today announced an official distribution agreement with Peplink, a leader in developing internet load balancing and VPN bonding solutions.
Craig Herrett, Sales Manager, 4Gon Solutions, commented:
"At 4Gon we are always working to identify, source and supply our customers with the best wireless technology products available anywhere in the world. Peplink is a vendor with an innovative product family that we have been very impressed with for some time." Herrett added, "for any distributor, the reputation of your business rests on the quality of the brands you offer. In this respect too, Peplink is a hugely valuable addition to our portfolio of products."
4Gon will offer the entire Peplink portfolio with enhanced levels of presales and post-sale technical advice and support for its channel community.
"4Gon is a highly respected distributor and its focus, especially on the 3G/4G space is an area we believe is showing the fastest level of growth for our product sets," says Andy Harris, Sales Director for Peplink, "Over the coming months, we look forward to working on a number of educational and training programmes to help further educate channel partners."
"Peplink is a great addition to our portfolio and delivers a number of unique features such as mobile fleet management and policy based link aggregation which makes its products stand out from the crowd which helps with our awareness raising activities," adds 4Gon's marketing manager David Frith.
Peplink's product range is innovative and diverse, including the Balance series of Load Balancing 3G and 4G Routers, ideal for reliable uptime and reducing costs of expensive leased lines; and the Pepwave MAX HD2 LTE bonding router, perfect for rugged durability and fast throughput for mission critical deployments.
Peplink Routers and Access Points allow Ethernet, Satellite, DSL, Wi-Fi, 3G and 4G networks to be bonded together forming a single aggregated resilient link to increase bandwidth, enhance Internet reliability, and reduce costs.
About 4Gon Solutions
4Gon is a worldwide business-to-business distributor of the highest quality wireless communications hardware.
4Gon have gone from strength to strength, growing rapidly year on year by diversifying our product portfolio and building on-going relationships with manufacturers and resellers, cementing their reputation as one of the most progressive companies in the wireless communications industry.
4Gon Solutions portfolio features the widest range of market leading brands available today and their staff have extensive knowledge and understanding of products.
4Gon Solutions shares the industry's vision, and believes in this markets potential, due to the multiple innovations and benefits available through new wireless technologies.4Gon is a trading division of Keison International Ltd which has been successfully distributing industrial products around the world for over 25 years. 4Gon utilises this experience in the rapidly expanding area of next generation wireless technology.
Visit http://www.4gon.co.uk/peplink , or give us a call on 01245 808295 to purchase Peplink today.
About Peplink
Peplink is the leader in Internet load balancing and VPN bonding solutions. Routers have been deployed around the world, helping thousands of customers from varied industries to increase bandwidth, enhance Internet reliability, and reduce costs. Our complete product line includes models for business of all sizes, and provides an award winning Internet experience for customers.