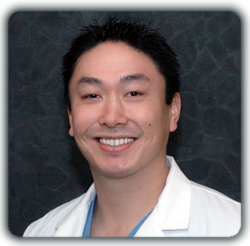 The pinhole surgical technique fixes gum recession without scalpels or sutures.
Campbell, CA (PRWEB) September 08, 2014
Dr. Jeremy K. Ueno of Ueno Periodontics is proud to announce that he is now using a revolutionary new procedure to fix gum recession. Dr. Ueno has recently introduced the new pinhole surgical technique (PST), giving patients more effective and less invasive treatment for gum recession. This procedure is also known as the Pinhole Gum Rejuvenation (PGR) and "Lunchtime Gum Lifts."
The pinhole surgical technique fixes gum recession without scalpels or sutures. It is minimally invasive, and some patients report little to no pain as early as 24 hours post-op. The procedure is faster than traditional gum drafting, and there is no need to take pieces of tissue from the roof of the mouth or other sites of the mouth.
Only about 500 dentists in the world are certified to perform this procedure, which is covered by most insurances. The procedure has been shown on The Doctors Show, ABC and NBC.
There a variety of reasons why patients experience gum recession, including genes, tobacco products, aggressive tooth brushing, insufficient dental care and periodontal diseases. When gum recession occurs, gaps form between the teeth and gum line, causing bacteria to easily build up. Not addressing your gum recession can eventually lead to both pain and possibly tooth loss.
To learn more about the pinhole surgical technique, read this study which covers all the details. For more information about Dr. Ueno and Ueno Periodontics, visit their website at http://www.uenoperiodontics.com/.
About the company:
At Ueno Periodontics, Dr. Jeremy Ueno and the exceptional staff treat all of their patients' periodontal needs. They believe in conservative and predictable procedures to fulfill treatment needs and patient expectations. Their state-of-the-art office offers the most up-to-date equipment set in a relaxing and patient-friendly environment. Dr. Ueno offers all aspects of periodontal treatment ranging from esthetic laser and gum surgery to replacing missing teeth with dental implants. He is also very proud that he is able to offer laser periodontal surgery to his patients, which has many benefits over traditional periodontal or gum surgeries. For more information, please visit the Ueno Periodontics website at http://www.uenoperiodontics.com.