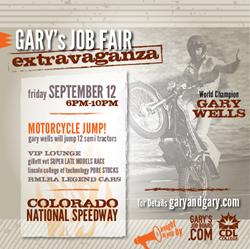 "Believe me, once folks hear that bike start and watch him doing laps they'll get sweaty palms".
Denver, CO (PRWEB) September 08, 2014
Gary Wells
World Champion Motorcyclist Extraordinaire
September 12, 2014 at 6-10 pm
Colorado National Speedway
Dacono, CO – September 12, 2014, 6-10 pm Gary Wells, El Gringo Loco, will hold a motorcycle show and jump on Friday night September 12, 2014. The motorcycle show and jump will kick off National Truck Driver Appreciation Week.
This event has three parts.
1. Truck Driver Job Fair
2. Legendary Gary Wells will jump over 12 semi-trucks.
3. A car race.
To kick off National Truck Driver Appreciation Week, Gary Wells will jump 12 semi-trucks to honor America's Truck Drivers!
The United States is facing a truck driver shortage. CDL College and GarysJobBoard.com could not think of a better way to honor truck drivers and bring awareness to critical shortage of truck drivers. CDL College and Gary's Job Board brought the great Gary Wells to Colorado for this event.
But, that's not all. CDL College and GarysJobBoard.com organized 12 trucking companies to participate in a job fair, at the track, while the race is going on while they wait, in anticipation, for the great jump at intermission. Gary Wells will be jumping over the trucks brought by the participating trucking companies.
CDL Drivers get into the event free of charge. They will have the opportunity to be honored for National Truck Driver Appreciation week, mingle with trucking company owners and watch the great Gary Wells jump 12 semi-trucks.
For media inquiries regarding Gary's Job Fair Extravaganza individuals are encouraged to contact the CEO of CDL College and Gary's Job Board, Eric Haney directly by phone at 303-367-1030 or via email at erichaney(at)safetyasaservice(dot)com. This event has it's own website garyandgary.com
Colorado National Speedway
4281 County Road 10
Erie, CO 80514
Eric Haney
CEO
CDL College LLC and Gary's Job Board
7170 Dahlia St.
Commerce City, CO 80022
303-367-1030
erichaney(at)safetyasaservice(dot)com
http://www.garyandgary.com