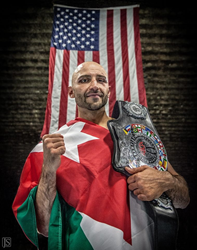 I'm so close to a world title now, I can taste it. I'm coming for what's mine.
Lockport, NY (PRWEB) September 08, 2014
Abdallah vs Wallis Fight Preview
Western New York native and World Kickboxing Association United States Champion Amer Abdallah (15-0) took one step closer to a world title shot as he faced European Champion James Wallis of Wales on June 7 for the WKA Intercontinental Championship, on Lace Up Promotions' fight card dubbed "International Warfare."
The action-packed card, featuring local, up-and-coming professionals Luay Ashkar and "Son of a Legend" Joe Taylor, was held at the Kenan Arena in Lockport, NY to a sold-out capacity crowd. Fans from all over New York State packed the arena to witness the international matchup between Abdallah and Wallis.
From the opening bell, both fighters measured each other out and began the tactical implementation of their game plans. Wallis, who came in 9 lbs. over the contracted weight, easily appeared to be the heavier and bigger of the two champions. Abdallah used his angles, counterpunching and quickness to slowly gain the upper hand on the European champion.
In an action-packed seventh round exchange, heads collided and opened a gash on Abdallah's left eye that began bleeding immediately. The U.S. champion fought through the cut, and it appeared as if it wasn't a factor going into the later rounds. Team Abdallah cut-man Ahmad Alnakeeb did a wonderful job closing the wound and preventing further bleeding.
Going into the 10th and final round, Abdallah was well ahead on all judges' scorecards, and it seemed he could have taken the round off. Instead, he tried to finish Wallis and landed an overhand right that dropped Wallis to the canvas, who surprisingly caught the bottom rope and bounced back causing the referee to avoid a 10-count.
"As soon as I landed the right hand, I saw him drop to the canvas, so I turned away," Abdallah stated. "I quickly turned back around as I caught him in the corner of my eye coming towards me."
Abdallah bombed away with big shots trying to finish the Englishman, but Wallis was able to hold on and survive the final round.
"That will be a moment of my career I'll always look back at and say 'What if?'" Abdallah added.
After 10 championship rounds, the entire crowd was on their feet applauding the two champions in their appreciation for what they had just witnessed. All three judges had the winner and new World Kickboxing Association Intercontinental Champion as Amer "Al-Mahseeri" Abdallah.
European Champion and IKF World Champion James Wallis was humble in defeat and displayed his class.
"Coming into this fight I knew I had a tough fight and I was correct," he said. "Amer's use of his left round kick and right hand won him a few rounds along his dummy body-to-head kick. It was a great fight, great show and great people. Thank you to Lace Up Promotions and thank you and congrats to Amer."
Working with Team Abdallah for the second fight in a row was Mayweather Boxing Club's Jeff Mayweather, who is the uncle of Floyd Mayweather Jr.
"Amer had a great fight and dominated every round," said Mayweather. "He's one of the hardest-working fighters I've been with and am proud to be a part of his team."
Newcomer to the team, Greg Jones, the owner of the Lockport Athletic & Fitness Club, had his first outing with Abdallah as head strength & conditioning coach.
"Greg was a pivotal part of this camp," Abdallah stated. "I felt the strongest, leanest and fastest I ever have in my career. I'm looking forward to many more camps with Greg as a part of the team."
It's undetermined yet what Abdallah's next step is, but he's aggressively moving forward towards his lifetime dream.
"Since the age of 8, when I laced up my first pair of gloves, my goal was to be the best in the world," said Abdallah. "I'm so close to a world title now, I can taste it. I'm coming for what's mine."
About Lace Up Promotions:
Lace Up Promotions strives to give local athletes the opportunity to build their careers, gain fans, build a reputation and work their way to lifelong ambitions of championships. Amer Abdallah had a passion for promoting and teaching kickboxing, boxing, and Muay Thai from an early age, and after successfully running a gym for teaching and training, Abdallah took this passion to the next level with Lace Up Promotions.
Having promoted numerous champions, such as Sam Stout, Jim Andrello, Mark Hominick, Chris Hordecki, Alexis Davis, Kim Andrello, Ed Burris, Kevin VanNostrand and even Amer Abdallah himself, Lace Up Promotions has become a well-known name in the combative sports world. To learn more, visit their website at http://laceuppromotions.com/.