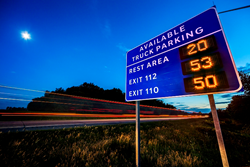 This system can be deployed quickly and efficiently at public and private parking facilities in any state. Our ultimate vision is a ubiquitous multistate, corridor-focused network.
DETROIT (PRWEB) September 08, 2014
The seemingly never-ending problem of finding safe places to park that faces commercial truck drivers and perplexes departments of transportation and frustrates motorists may soon be history with the advent of smart transportation systems that improve safety, efficiency and sustainability. That vision recently became a reality with the successful deployment of an innovative smart truck parking system along a 129-mile stretch of Interstate 94 in southwest Michigan.
And today infrastructure firm HNTB Corporation and Truck Smart Parking Services Inc., which developed the Truck Parking Information and Management System for the Michigan Department of Transportation, announced an agreement that will enable them to take the system nationwide. TPIMS is a smart truck parking network: a virtual environment where information about safe, secure and convenient truck parking is available in real-time to truck drivers.
"This system's adaptability to any highway in the country is its most valuable feature, as many commercial truck drivers travel hundreds of miles to make deliveries," said Eric Morris, HNTB project manager. "It is scalable elsewhere and can be deployed quickly and efficiently at public and private parking facilities in any state. Our ultimate vision is a ubiquitous multistate, corridor-focused network that covers a trucker's route from origin to destination."
Once they decide to break from the road, commercial truck drivers typically spend 30 minutes or more searching for a place to park their rigs. At times, drivers may feel the need to stop in unsafe places, increasing risks for them and other motorists, wasting fuel and expelling unnecessary emissions into the environment.
In part to satisfy performance metrics established under the current federal surface transportation authorization, the Moving Ahead for Progress in the 21st Century Act, or MAP-21, MDOT leveraged $4.48 million in funding from the Federal Highway Administration to hire HNTB in April 2012 to develop and install TPIMS along I-94.
This important trade corridor between Canada, Detroit and Chicago – near the heart of the U.S. auto industry – supports 10,000 commercial trucks passing through each day, but only offered a maximum parking capacity of 158 spaces in its five public rest areas. The corridor's commercial truck traffic accounts for 23 to 30 percent of all its traffic and represents some of the highest commercial volumes in the entire Midwest.
To collect accurate parking availability data, detection cameras and other sensors were deployed at rest areas and private facilities. HNTB and TSPS developed business-to-business agreements with the truck stops, allowing the firms to collect parking data and license the information to MDOT and other third-party information providers. TSPS and HNTB do this by working directly with parking operators to deploy sensing equipment that collects real-time parking availability information at each activated site.
Parking availability information is then aggregated and consolidated via TSPS's unique cloud computing service and distributed to drivers through the TSPS website (http://www.trucksmartparkingservices.com/), smart-phone applications, roadside signs, MDOT's Mi Drive website (http://www.michigan.gov/drive) and third-party data services. That includes smartphone apps and connected vehicle equipment.
"We worked with our federal and private sector partners to implement this innovative system, putting valuable real-time information into commercial carriers' hands," said Kirk T. Steudle, MDOT director. "Safety is the top priority on our highway system, and that includes helping freight carriers make smarter, safer parking decisions. To maximize safety and value to freight carriers, we need to continue to work with private sector partners and expand the network across the state along major freight networks."
That value adds up quickly. With the average operating cost of a truck nearly $120 per hour, saving each truck driver 15 minutes during their regular parking routine could save $4.4 billion each year across the 400,000 parking events that occur daily. Each driver could save two gallons of diesel and reduce greenhouse emissions by nearly 45 pounds per parking search, more than 3.3 million tons of CO2 each year.
"Breakthroughs like this are what keep our nation's freight transportation industry moving forward, and it's exciting to witness today's commonplace technology combine with the latest connected vehicle advances to solve an age-old problem," said Harry Voccola, TSPS chairman. "We're ready to bring this to other states and their busy freight corridors across the country."
About HNTB
HNTB Corporation is an employee-owned infrastructure firm serving public and private owners and contractors. Celebrating a century of service, HNTB understands the life cycle of infrastructure and addresses clients' most complex technical, financial and operational challenges. Professionals nationwide deliver a full range of infrastructure-related services, including award-winning planning, design, program management and construction management. For more information, visit http://www.hntb.com.
About TSPS
Truck Smart Parking Services Inc. is a technology service company focused on creating a future where information about safe, convenient truck parking is available real-time to drivers across the entire highway network. For more information, visit trucksmartparkingservices.com.
EDITOR'S NOTE: For more information on the I-94 project, watch MDOT's recent video news release at http://www.youtube.com/v/HC-4SUR0ZM8. TPIMS also will be the subject at two panel discussions at the 2014 ITS World Congress now underway in Detroit: ITS Applications in Truck Parking Availability, and State of the Art and Benefits of Real Time Information for Commercial Vehicles.