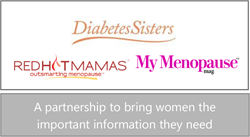 Durham, NC (PRWEB) September 10, 2014
DiabetesSisters, the nation's leading voice for women with diabetes, is pleased to announce that its next webinar in the Life Class Webinar Series will take place on Wednesday, September 17 at 4 PM EDT. The webinar is entitled "Five Things Women with Diabetes (WWD) Should Know about Menopause" and it's free and open to the first 100 registrants. Moderated by DiabetesSisters' CEO, Brandy Barnes, the webinar will be led by renowned women's health expert Mache Seibel, MD.
In the webinar, Dr. Seibel will discuss how to recognize signs and symptoms of peri-menopause and menopause (and not confuse them with diabetes symptoms). He will also provide tips to reduce the impact of menopause on daily life and diabetes management and provide an easy-to-understand overview of what is going on inside the body during menopause.
Dr. Mache Seibel is the 2013 recipient of the North American Menopause Association's Media Award. Since 2004, he has served as a professor and the Director of the Menopause and Mental Health Program at University of Massachusetts Medical School. Prior to this, Dr. Seibel was a member of the Harvard Medical School faculty for 19 years where he served as Director of the Division of Reproductive Endocrinology and Infertility. He is the Founder of My Menopause magazine and a past Editor in Chief of Sexuality, Reproduction & Menopause. His specialties are menopause symptoms, stress, weight control, sleep and diabetes.
As part of DiabetesSisters' comprehensive diabetes education and support program for women with diabetes, the Life Class Webinar Series is presented quarterly. This quarter's Webinar is provided with the support of Red Hot Mamas®, the nation's largest menopause education program.
Webinar: Five Things Women with Diabetes (WWD) Should Know about Menopause
Presenter: Mache Seibel, MD
Registration: https://www.diabetessisters.org/life-class-webinar-series
The webinar will start promptly at 4pm ET and end at 4:30pm. Fifteen minutes will be provided at the end for audience Q & A.
About DiabetesSisters
DiabetesSisters is a 501c3 national nonprofit organization whose mission is to improve the health and quality of life of women with and at risk of diabetes, and to advocate on their behalf. This mission is accomplished through signature programming such as DiabetesSisters' Conference Series, the PODS Meetup Program, and the Life Class Webinar Series. For more information, please visit http://www.diabetessisters.org.
---