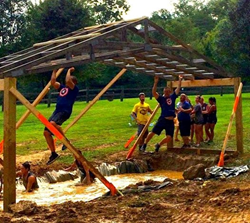 Chattanooga, TN (PRWEB) September 08, 2014
Flypaper recently took part in an event to benefit the local community. The digital marketing company volunteered in the Chattanooga Mud Run on Aug. 15, which raises funds for the Habitat for Humanity of Greater Chattanooga.
This is the fifth year that the Chattanooga Mud Run has been held. This 5k mud run is a military-style obstacle course race, with most of the obstacles surrounded by (or consisting entirely of) mud. The event was held on the ground of Greenway Farms in Hixson.
Over 3,500 people participated in the event this year, making this the largest group to ever run the course. Enough funds were raised at the 2014 race to build four new homes in the community. Flypaper volunteered along with The Chattanooga Home Builders Association.
Flypaper is excited to participate in local community events that benefit not only families in local neighborhoods but also all small business owners. They help business owners get found online and grow their business in the digital world. Having the opportunity to volunteer along side of their clients to help the community is an added benefit.
About the company:
Flypaper provides digital marketing solutions for businesses and organizations throughout the Tennessee Valley. Partnered with the Chattanooga Times Free Press, an institution with more than 140 years of experience serving the Chattanooga region, Flypaper has roots in the community and is invested in helping local businesses succeed in the digital age. Flypaper offers a network of solutions tailored for each business' needs, goals and budget. These strategies are designed to get businesses in front of potential customers in print, online and on more mobile devices than any other provider in the area and keep them there. Flypaper has the flexibility to offer solutions that will benefit a business now and as its needs evolve in the future. Their marketing strategies create "customers who stick." For more information, please visit their website at http://www.customerswhostick.com and sign up for a free consultation.