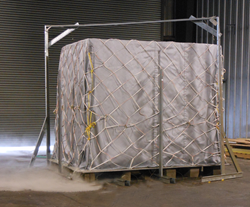 Victor, New York (PRWEB) September 08, 2014
Newtex Industries and Trip & Co. are proud to announce the introduction of FireCape™, the first completely fire resistant cargo cover designed to contain the deadly effects of fire and smoke associated with palletized cargo aboard aircrafts.
The FireCape™ Fire Containment Cover (FCC) is the result of the combined expertise of these two industry leaders and far exceeds the rigorous performance specifications proposed by the Federal Aviation Administration (FAA), European Aviation Safety Agency (EASA), and leading cargo carriers. The FireCape™ features Newtex's Z-Block™ fabric, a technologically advanced coated fabric that is virtually impenetrable to fire, smoke, and water and can tolerate temperatures up to 1800°F or 980°C.
By acting as a two way barrier to contain a fire for at least six hours, the FireCape™ FCC provides valuable time for a pilot to safely land an aircraft. In addition to being durable and easy to deploy, the FireCape™ FCC will not burn, melt or allow flame penetration. It is water tight, chemical resistant, and easy to store, maintain, clean and repair. Furthermore, the materials used in the FireCape™ do not produce hazardous gasses when exposed to fire and can even withstand the extreme temperatures and challenging conditions associated with lithium-ion battery fires caused by thermal runaway events.
Deploying fire containment covers on long haul transoceanic flights is now considered one of the most prudent steps to mitigating fire risk caused by hazardous materials, like lithium-Ion batteries. Fire containment covers also provide increased safety during air cargo loading and ground handling, as well as depot storage. Fire containment covers are necessary to accommodate growing concerns and pending regulations by the Federal Aviation Administration (FAA) and the European Aviation Safety Agency (EASA).
The FireCape™ system is fully tested with certified laboratories, readily available in large commercial quantities, and can be customized to meet specific end user requirements.
About Newtex Industries
Since 1978, Newtex has been a pioneer and leading global producer of high temperature textiles for thermal management and fire protection. Today, we deliver world class products and services in three business areas: Performance Materials, Engineered Systems, and Extreme Protective Apparel. Newtex is an ISO 9001:2008 certified company headquartered in a modern and high-tech facility in Victor, New York.
About Trip & Co.
Trip & Co. is a leading global manufacturer and supplier of cargo products, including a complete range of GoodCape® thermal covers. Trip & Co is based in The Netherlands, near Schiphol Airport.