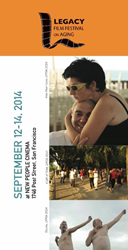 To keep the heart unwrinkled, to be hopeful, kindly, cheerful, reverent. That is to triumph over old age. — Amos Bronson Alcott, 1799-1888
Tiburon, CA (PRWEB) September 08, 2014
Living Well Assisted Living at Home is pleased to once again sponsor the Legacy Film Festival on Aging to be held Sept. 12-14 in San Francisco. The Legacy Film Festival on Aging is proud to present a film series portraying the richness of later life.
Dr. Doris Bersing, Living Well President & CEO, is very excited about a new festival full of provoking films and challenging images about elders. She quotes Legacy when saying "...the festival promises to inspire, educate and entertain inter-generational audiences on how to live well and enjoy life, despite life's challenges." The festival's programs showcase shorts, features and documentaries from eight foreign countries and the USA.
Sheila Malkind, director of the festival and the Legacy Film Festival Organizations, says, "We've all heard the quotes: 'Old age is not for sissies,' and 'Who said these are our golden years?' Of course, it implies that growing old/older is a tough time."
The festival does not shy away from showing films about those challenges and difficulties, such as dementia, chronic illness, family losses, death, etc. However, they also choose films that do not foster stereotypes of older adults being helpless, muddled or silly.
For the festival, Malkind and a volunteer group of jurors spent almost 12 months selecting films submitted by wonderful filmmakers about people who choose to keep learning, to lend a hand to others, to let their voices be heard and to be connected.
Malkind says, "You will see films about people from around the globe, and even here in the Bay Area, who stay vital, and continue to make their lives and their loved ones' lives meaningful."
Friday, Sept. 12, 5:30-7:30 p.m.
Saturday, Sept. 13, 10:30 a.m. – 8:30 p.m.
Sunday, Sept. 14, 10:30 a.m. – 5:30 p.m.
Location: NEW PEOPLE CINEMA
1746 Post Street (at Webster)
Japantown, San Francisco
For descriptions of the films as well as ticket information, schedule, location and parking, visit the company web site.
About the company: Living Well offers specialized care for adults with chronic and debilitating conditions — like Alzheimer's, Parkinson's, ALS, and mental illness — that compromise their ability to live safely in their homes. At Living Well Assisted Living at Home, they combine a team of experts and the use of smart technology with exceptional customer service to deliver personalized, comprehensive care to seniors and adults with cognitive, behavioral and movement disorders. Their approach to care at home enables those seniors and adults affected by Alzheimer's disease and other forms of dementia, Parkinson's, ALS, other neurological disorders and mental illnesses to live independent and meaningful lives. At Living Well, they aspire to create a safe and nurturing environment while allowing for independence and dignity for seniors and adults and offering peace of mind to the children and family members. Visit their website for more information, http://www.livingwellah-sf.com.