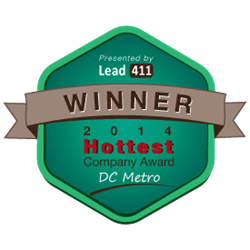 Washington, D.C. (PRWEB) September 08, 2014
Applied Predictive Technologies (APT) announced today that it has been named one of the Hottest Companies in the D.C. Area by Lead411. Lead411's award recognizes the fastest growing technology companies in the D.C., Virginia, Maryland, and Delaware area. APT was chosen from over 700 companies considered for this year's award. Past winners include HubSpot, Marketo, Glassdoor, and Eventbrite.
APT CEO Anthony Bruce commented, "APT is proud to have built an industry for robust cause-and-effect predictive analytics. Our software drives value for businesses across various industries, including retail, restaurants, telecom, hospitality, pharmaceuticals, and banking, among others. Our team continues to develop cutting-edge analytic technologies and also have an impact on the greater D.C. community. This year, we partnered with DC Prep, a leading area public charter school, and the Capital Area Food Bank, to help them leverage their data to make a larger impact in the community."
Earlier in the year, APT was selected as the #1 place to work by the Washington Business Journal and #1 medium-sized workplace by the Washington Post in the Washington, D.C. area. In 2013, APT received a $100 million investment from Goldman Sachs. Accel-KKR has been an investor since 2006.
"Our 2014 award winners might be our best selection ever," said Tom Blue, CEO of Lead411. Companies receiving Lead411's award must be in the Software, Wireless, Internet, Hardware, or Media industry, must be privately held, and must be within the DC region.
To learn more, visit: http://www.predictivetechnologies.com.
About APT
APT is the world's largest purely cloud-based predictive analytics software company. APT's Test & Learn™ software is revolutionizing the way Global 2000 companies harness their Big Data to accurately measure the profit impact of pricing, marketing, merchandising, operations, and capital initiatives, tailoring investments in these areas to maximize ROI. APT's client portfolio features the world's best known brands, including Walmart, Target, T-Mobile, Kellogg, Procter & Gamble, Victoria's Secret, and others. APT has offices in Washington, D.C., San Francisco, London, Tokyo, and Taipei. Visit http://www.predictivetechnologies.com to learn more.
About Lead411
Lead411 provides information, news, and research about U.S. companies and their executives. Founded in 2001, its goal has been to focus on quality corporate data that is valid and useful rather than producing as many company records as possible. In addition, Lead411 tracks company news in order to alert its customers about venture financing, new hires, hiring plans, etc. Customers include Gartner, Administaff and ADP.