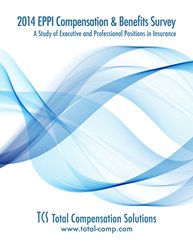 insurance companies are budgeting significantly more for salary increases in 2015
Armonk, NY (PRWEB) September 09, 2014
Total Compensation Solutions (TCS), a leading compensation and benefits consulting firm focused on the insurance industry has released its inaugural edition of the EPPI survey. The study finds that insurance industry salary budgets are increasing at an accelerated pace. The compiled data indicates that insurance companies are budgeting significantly more for salary increases in 2015 than in the past. According to Matt Leach, project director for this study, "This is a sign of an improving economy" and according to economists a necessary first step to a robust economic recovery.
The 2014 EPPI or Executive and Professional Positions in Insurance Survey is a compilation of pay data and personnel policies for 148 companies in the insurance industry. It is the result of many years of research on the insurance industry and a valuable tool for Boards of Directors and Executives who lead these companies and who set pay for insurance industry professionals.
The survey reports that salary budgets for executives are almost 3.5% on average, which is a full one-half percent higher than previous years. "While it appears to be a marginal amount, it indicates that individual companies want to spend more on executive salaries in 2015 than they have for the last few years" according to Leach.
The EPPI survey compiles information from companies in several product lines (property and casualty, workers' compensation, and professional liability, among others) located throughout the U.S. The survey includes geographic analysis that shows that executives in the northeast and west coast regions are compensated at a higher rate than other regions of the country.
TCS also identifies asset size as one of the main contributors to compensation at the executive level. Survey statistics indicate that there is a direct relationship between the size of these companies and the pay levels when all other factors are equal.
TCS's inaugural edition of the EPPI Compensation Survey (Executive and Professional Positions in Insurance) fills a vacuum for independent, timely, and accurate survey data on insurance industry positions. This survey, which is independently compiled by an compensation and human resources consulting firm, demonstrates how to apply salary administration theory that can enhance recruiting, reduce turnover, and potentially improve performance of employees in the insurance industry. It also serves as an effective tool for compensation and human resources practitioners to apply sound pay policies and procedures in their everyday work.
Copies of the 2014 EPPI Compensation Survey may be obtained from TCS. If you have questions regarding this report, please call Tom Bailey at TCS - (914) 730-7300 or email questions to:tbailey(at)total-comp(dot)com.
###
About TCS
Total Compensation Solutions is an independent human resources consulting firm that assists clients in achieving their strategic compensation objectives. The firm uses market data to identify best practices in a variety of topical areas including: board compensation; executive, middle management and staff compensation; performance management; organization structure; health and welfare; and retirement benefits. From offices in Armonk, NY, TCS gathers and reports information on compensation, personnel practices and benefits and applies the most effective, market-driven solution to each organization's unique set of circumstances. TCS provides comprehensive compensation consulting services to organizations in a variety of industries. For more information on TCS, visit http://www.total-comp.com or contact us at:
Total Compensation Solutions
200 Business Park Drive
Armonk, NY 10504
Phone: (914) 730 – 7300
Fax: (914) 730 – 7303