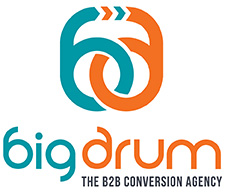 "We recognize that CRO is where the magic happens, so we've made it a core component of our award-winning Search Engine Optimization and Paid Search services."
Atlanta, GA (PRWEB) September 10, 2014
Prominent Placement, Inc. (PPI), an Atlanta-based search engine marketing agency, today announced it has changed its name to Big Drum. "Our industry and our company have undergone several fundamental and strategic changes," said Stacy Williams, CEO. "Now is the time for us to build a brand that's in alignment with the future of digital marketing and lead generation."
Big Drum's approach and processes reflect three key changes from Prominent Placement's former methodology:

Big Drum is putting more focus than ever before on driving website conversions. Ultimately, clients hire the company to help them produce qualified leads. Big Drum has been doing Usability and Conversion Rate Optimization, or CRO, for the past eight years, but it's previously been an augmentation to their core services.
The company has implemented several agile development approaches into their processes. By operating in two-week sprints, Big Drum can be more responsive to their clients' ever-changing needs.
Big Drum will focus on technology companies that sell to other businesses as clients. B2B tech businesses, including SaaS companies, have always made up about 75% of their client base. Big Drum has been living in their world since 2001, and understands their needs, challenges and opportunities.
Star Bradshaw, VP of Conversion Optimization, says, "We recognize that CRO is where the magic happens. This multi-faceted discipline endeavors to increase positive response to clients' digital marketing message. We know that B2B companies benefit from user-centric CRO, so we've made it a core component of our award-winning Search Engine Optimization and Paid Search services."
The name Big Drum was chosen because the company's goal is to help B2B companies make meaningful, productive noise. The Internet is gigantic, frenetic and cacophonous. It's not easy to make noise, stand out or direct people where one needs them to go. Big Drum exists to make sure that the right people find their clients' websites, and that their message is received, loud and clear.
The rebranding team included Rich Goidel (Dangerous Kitchen), Jeff Faught (BCHORD) and Rachelle Kuramoto.
In celebration of the rebrand, Big Drum has worked with Paul McKeon and The Content Factor to co-author an eBook called "Sure they're clicking. But are they converting? Four B2B digital marketing conversion essentials." Interested parties may download the eBook at no charge.
Comments are being posted on social media with the hashtag #BigDrumIsHere.
ABOUT BIG DRUM
Big Drum is the B2B conversion agency that grows sales pipelines. Applying intelligent digital marketing strategies driven by vigorous analysis and delivered with high touch client service, we increase online brand awareness and qualified leads to drive revenue. A pioneer in conversion rate optimization (CRO), search engine optimization (SEO), and paid search, we have consistently delivered robust, measurable ROI since 2001. Our customized, analytics-driven process empowers B2B technology companies to make informed decisions and focus on what they do best.
For more information, visit bigdrum.io