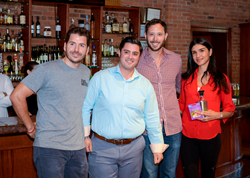 Yonkers, N.Y. (PRWEB) September 09, 2014
Working with some of Yonkers best restaurants, Generation Yonkers, or GenY, recently announced the two winners of its first-ever cocktail competition.
Zuppa Restaurant's Crystal Thomas won the People's Choice Award for her Tall Caprese, a mixture of vodka, fresh citrus, local basil and grape tomato with carbonated water. Michael Gonzalez of X20, Xaviars on the Hudson won the Judge's Choice Award for his Summertime Swing, a mixture of Slovenia Vodka, watermelon, mint, lime and St. Germain. (For all drink recipes go to http://www.generationyonkers.com.)
Each winner took home the coveted prizes, a GenY cocktail shaker and $500 gift card.
The People Choice Award was selected by voters as part of a social media campaign that included Twitter and Facebook.
The Judge's Choice Award was selected after bartenders competed in a "shake-off" whereby a
panel of experts sampled the tasty drinks. The judges included Kate Schlientz of the blog
IntoxiKate, Sharif Taleb of Yonkers Brewing Company, John Turiano of Westchester Magazine and Emilio Ugarte, Rivermarket Bar and Kitchen. John Rubbo and Nick Califano of Yonkers Brewing Company emceed the event.
"Yonkers is a city with so much to offer and this contest captured the spirit of our Generation Yonkers campaign," said Mayor Mike Spano. "We're proud to have partnered with local restaurants on such a fun competition and grateful to our residents for supporting our local businesses. This is just another example of what makes Yonkers a great place to live, work and play."
Participating restaurants included X20, Xaviars on the Hudson, Zuppa Restaurant, Guapo Cocina Mexicana, Dolphin Restaurant, Café Hudson and Empire City Casino. The month-long competition was held in conjunction with the Business Improvement District's free summer concert series throughout the month of August and included specials such as buy 1 get 1 free vouchers to help promote the great restaurants in Yonkers.
The competition is part of the city's new marketing and messaging campaign. Generation Yonkers highlights the city's unique assets and qualities while positioning Yonkers as one of the New York Metro area's next great places for people to live, work and play. To learn more, check out http://www.GenerationYonkers.com.