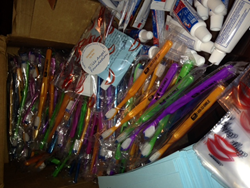 Titusville, FL (PRWEB) September 08, 2014
As children head back to school, Coast Dental is helping to ensure students can start their school year with a smile. Coast Dental donated 750 toothbrushes to the Smile Angel Foundation, which participated in several back-to-school events for children in Titusville last month. The Foundation, along with volunteers from Hope for North Brevard, Inc., The Kiwanis Club of Titusville, and other charities, handed out dental care packages that included toothbrushes, toothpaste, and floss. Local hygiene students from Eastern Florida State College showed the children proper brushing and flossing techniques.
Although tooth decay is largely preventable, it remains the most common chronic disease of children aged 6 to 11 years (25%), and adolescents aged 12 to 19 years (59%), according to the Centers for Disease Control and Prevention. Tooth decay is four times more common than asthma among adolescents aged 14 to 17 years.
A study by the USC's Ostrow School of Dentistry found children in the LA School District who had tooth pain were four times more likely to have a grade point average below the median GPA of 2.8. The study also discovered that dental problems accounted for 2.1 days of missed school for elementary students and 2.3 days of missed school for high school students on average. In many cases, this meant parents had to miss work in order to care for their child.
Overall, 11 percent of students with no access to dental care missed school due to dental problems, compared to only 4 percent who could see a dentist.
Coast Dental is proud to partner with the Smile Angel Foundation to provide toothbrushes and to raise awareness of the importance of oral health to a child's overall health and well-being.
# # #
About Coast Dental
Coast Dental, P.A., with its professional associations, is one of the largest providers of general and specialty care in the United States with more than 175 affiliated practices operating as Coast Dental and SmileCare in Florida, Georgia, California, Nevada and Texas. Coast Dental Services, Inc. is a privately-held practice management company that provides comprehensive, non-clinical business and administrative services to its affiliated practices. The company is headquartered in Tampa, Florida. For more information, visit http://www.CoastDental.com.