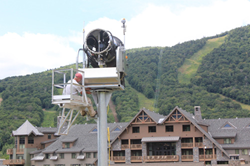 Montpelier, VT (PRWEB) September 09, 2014
Vermont's 2014-15 ski and snowboard season is already abuzz, as the early forecast calls for a snowy and cool New England winter. Vermont will also add to fresh snow from mother nature with a huge statewide snowmaking upgrade that will not only make the slopes more enjoyable to ride, but will extend the season, decrease emissions and allow for quick turnaround if Mother Nature gets fickle with us. Pair all this with sweet new deals, eats, and other amenities and events, and this season will prove to be the best yet.
See what resorts have in store:
Okemo Mountain Resort
Skiers and snowboarders visiting Okemo this winter will be viewing the snowy landscape through the bright orange tint of a retractable, transparent dome when they ride in the comfort of a new, high-speed, six-person bubble chairlift with heated seats – the first of its kind in North America. The Sunburst Six replaces the Northstar Express Quad. Also, Operation Snowburst returns for a second season of snowmaking improvements with the addition of 100 new, energy-efficient HKD tower guns. Operation Snowburst Part 2 follows a $1 million snowmaking investment that allowed Okemo to open early with top-to-bottom skiing and riding last winter.
Mount Snow Resort
Snowmaking enhancements continue at Mount Snow with the arrival of 645 brand new low-energy snow guns; the largest single snow gun upgrade in the resort's history. The entire snow gun arsenal is now 100% low-energy. Also making its debut this winter is Smart Snow; a state-of-the-art snowmaking control system, the same one used for the snowmaking operation at the Winter Olympics in Sochi. Thousands more feet of snowmaking pipe have been replaced and a number of trails have been electrified so high output fan guns can be operated on them.
Smugglers' Notch Resort
The addition of 156 new high efficiency tower guns and one additional fan gun signals the completion of Smugglers' conversion to a fleet comprised fully of high efficiency snowguns. This will be Smugglers' third consecutive winter of snowmaking improvements. 250 new guns were incorporated into the fleet over the previous two winter seasons. The high efficiency guns yield faster terrain coverage and quick refreshing of trails for the best possible onslope experience.
Stowe Mountain Resort
Stowe Mountain Resort's state-of-the-art snowmaking operations have been supplemented by a three-year $9.8 million dollar snowmaking expansion. Totals for the 3-year project include; over 100,000 feet of new snowmaking pipe, almost 20 miles worth, 615 HKD SV10 tower guns, 150 Ratnik Baby X2 land frames, 20 SMI Super PoleCat snow towers and 8 HKD Turbo snow towers.
In addition to supplementing its already superlative snowmaking, Stowe has completely renovated its famous summit Gondola on Mt. Mansfield and improved family lift service on lower Spruce Peak with a new Quad chairlift and two new carpet surface lifts. http://www.stowe.com/2014mediakit/
Stratton Mountain Resort
What does $7 million buy? How about 58 new gondola cabins, 350 more energy efficient HKD snowguns, two new snowcats, new glades, buses and bullwheels, rental gear… and more in year two of a total $21 million investment in the overall resort experience. With a trip of just eight minutes, the Stratton gondola carries 2,400 people per hour and runs 7,590 feet from base to the summit of southern Vermont's highest peak. The latest HKD purchase brings Stratton's tower snowgun fleet to over 1,000 and completely eliminates the use of diesel.See what else is new for 2014-15.
Sugarbush Resort
Sugarbush continues to invest in improvements at both Lincoln Peak and Mt. Ellen. This year, the resort spent more than $1 million on both mechanical and electrical upgrades to the lifts. The resort also invested $1.8 million in snowmaking equipment, completing a five-year, $5 million capital project that saw upgrades in snowmaking at both mountains. Over the summer, crews installed 351 new Snowlogic, HKD, and Ratnik low energy snowguns, and made significant improvements to infrastructure, replacing a variety of snowmaking pipes, pumps and valves. The resort also replaced one of its winch cats with a new Pisten Bully 600. Sugarbush has an eight groomer "Pisten Bully elite fleet". Parking for busy days has been expanded to create 450 new parking spaces. Permitting continues on a new Valley House lift. All told, the resort invested $4.5 million this year in infrastructure.
Jay Peak Resort
Jay Peak will attempt to do something that hasn't been tried at the resort in at least a decade—give its employees a chance to breath. After building a Nordic Center, ice arena, three hotels, hundreds of condos, a 60,000-square foot waterpark, and most recently opening a 1,500-person amphitheater, employees will revel in the return of their standard 60-hour work week, the chance to see how much their kids have grown, and maybe even get to take a run or four through the 370-inches of snow that buries the place every winter.
Killington Resort
Killington's highly anticipated Peak Lodge facility opened its doors at the 4,100 foot level of Killington Peak in December 2013, replacing the original structure from the late 1960's. The new 15,000 square foot facility includes seating for 300 guests, a food venue featuring a selection of fresh local fare, a full bar, and lounge areas with couches and coffee tables. The versatile venue is available for weddings, meetings and conferences year-round. Like the K-1 Express Gondola, the Peak Lodge sources its electricity via Green Mountain Power's innovative Cow Power program.
Additionally, Killington continues to invest in essential infrastructure projects ahead of the 2014-15 winter season, including over $1 million in lifts and lift improvements, $2 million worth of new energy efficient snow guns and continual trail and glade maintenance.
Bromley Mountain
Bromley's snowmaking system will be completely and efficiently up to date for the Winter 2014/15 season. Mountain Operations has taken full advantage of Efficiency Vermont's Great Ground Gun Round Up, and traded in all the old air-hogs for new efficient tower guns. The snowmaking team is also working with HKD to develop portable ground guns on tri-pods to cover some of the tricky terrain that made those old inefficient ground guns necessary. Add that to one of the most sophisticated energy monitoring systems in the state, and Bromley has a recipe for super snow.
Beginners to the sport are invited to join the Bromley Ski & Snowboard School for free on three dates this winter: December 21, 2014, January 19 or March 15, 2015. Bromley also offers the new Super Duper Ski Package which includes: 6 all-day Kidsrule Mountain Camp lessons, a free pair of Elan Starr skis with bindings, a coupon for discounts on boots, poles and accessories at the Bromley Shop by Potter Brothers, plus a Bromley Full Season Pass. Learn more at bromley.com
Bolton Valley
Young skiers and riders can live the dream this season with the new Ski Bum Pass at Bolton Valley. Starting at just $129 if purchased before October 31st, this pass is for anyone between the ages of 18-25. ($129 price is for the Value Pass with Sunday – Friday access. Get an unlimited All Access Pass for just $159).
Every Friday night will be a Late Night at Bolton Valley this season. Lifts will spin until 10pm, tickets will be just $20 starting at 7pm. Ski till your legs give out then kick back in the James Moore Tavern with live music and food and drink specials.
For more capital improvements at Vermont ski and snowboard resorts, visit skivermont.com.
Ski Vermont (Vermont Ski Areas Association) is a proud ambassador of the thriving winter tourism industry in Vermont, where the legislature has designated skiing and snowboarding as the official state sports. Vermont is not only the #1 ski state in the east and third in the US, but also reigns supreme in snowmaking quality and coverage, variety of terrain and historical impact on the sports of skiing and snowboarding - making it one of the most significant ski and ride destinations in the world. Ski Vermont's mission is to help create a legislative, economic and social environment in which the state's ski areas can grow and prosper. It serves its 19 Alpine and 30 Nordic member resorts in three major areas: Governmental Affairs, Marketing and Public Affairs.