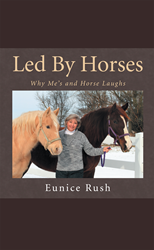 Living on a small island with no running water, electricity or indoor plumbing may seem odd, but it led to my lifetime of friendship with animals, training them as my constant friends."
Indianapolis, Indiana (PRWEB) September 10, 2014
Full of stories both lighthearted and touching, author Eunice Rush's new book Led By Horses offers readers a reminder that God has a sense of humor.
Throughout her book, readers will follow Rush through some of the most influential events in her life, from goldfish training and a cat that walked on water to her current-day horse performances. Even when stories get serious, it always comes back to being led by God.
Rush previously wrote Know You, Know Your Horse, providing horse lovers everywhere insight into the personality of their favorite animal. Her previous work has been mentioned in multiple publications including Horse and Rider, Chrome and International Show Horse. She has put the same expertise and passion into Led By Horses.
"I had an unusual childhood for sure," said Rush. "Living on a small island with no running water, electricity or indoor plumbing may seem odd, but it led to my lifetime of friendship with animals, training them as my constant friends."
With every story, Rush provides an easy smile. Led By Horses is the perfect pick-up, put-down book for the animal lover, the Christian, and the horse enthusiast.
For more information, visit authoreunicerush.weebly.com.
Led By Horses
By Eunice Rush
ISBN: 978-1-4969-1316-6
Available in softcover and e-book
Available on Amazon, Google Books and Authorhouse
About the author
Eunice Rush is an Indiana native with a passion for the great outdoors and animals of all kinds. She lives on a fourth generation farm with her husband, horses, a donkey, and several cats. She camps and trail rides all over the United States and frequently takes her trick horse to performance engagements.
###
**FOR IMMEDIATE RELEASE**
For review copies or interview requests, contact: Craig Cainkar
630.430.6123
ccainkar(at)bohlsengroup(dot)com