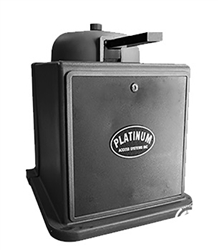 [Brushless motors'] biggest appeal is the relatively low maintenance demands of the motor.
Ventura, CA (PRWEB) September 17, 2014
Platinum Access Systems has released a revolutionary new state-of-the-art brushless DC motor system for its line of gate operators. These effectively maintenance-free motors are now accessible for businesses and residential gate owners thanks to partnerships with United States' distributors such as the Perimeter Security Systems Store (PSS Store).
Platinum Access Systems is one of the first companies to employ the new technology of brushless DC motors. With this new technology, motors are able to include more torque per weight and watt, while also reducing noise. Additionally, the new technology offers 90% operational efficiency compared to the 60-70% efficiency of brushed motors.
Brushless DC motors utilize a host of other key features that offer superior performance to brushed DC motors, but their biggest appeal is the relatively low maintenance demands of the motor. While brushed motors require replacement brushes after frequent use, a brushless motor has no brushes to replace.
Unlike brushed motors, these motors are able to be cooled by conduction. This allows the motor's internal parts to be entirely enclosed and protected from outside contaminants, which in turn prolongs its lifetime expectancy and its day to day reliability. On average, the life expectancy for these brushless motors is 5x that of a brushed motor.
Platinum Access Systems works with a team of engineers to create state of the art advances in gate technology. Combined with manufacturing production support, their operators and motors are an attractive product that offer unmatched consistency, speed and durability at competitive prices.
PSS Store has partnered with Platinum Access Systems as an authorized distributor serving the United States and Canada. PSS Store offers competitive pricing on this new technology with fast shipping and reliable service for customers. All new Platinum Access Systems' brushless DC motors have a 10-year warranty on the motor with an 8-year residential warranty on the rest of the unit.
About Perimeter Security Systems Store
Perimeter Security Systems (PSS) Store specializes in providing high-end access control systems for businesses, residences and industrial areas. After 40 years of installing, repairing and selling security gate equipment in Southern California, PSS Store has become well known within the industry as a trusted resource and now serves customers all over the country. The company works directly with top manufacturers to deliver the best products at the best price possible.