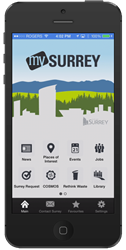 My Surrey will help to consolidate our communications with our constituents and provides us with a framework to add new services and content on the fly - Sean Simpson
Surrey, British Columbia (PRWEB) September 10, 2014
The City of Surrey today announced the release of the My Surrey mobile applications for iPhone, Android and BlackBerry. The application was designed to unify all of the cities' mobile web and native application initiatives creating a single mobile launch pad for the citizens of Surrey. My Surrey also introduces a number of new citizen mobile services, including news, events, city jobs, bike routes, a parking locator and location enabled parks & recreation directories. The application also ties in the cities social media feeds.
"My Surrey will help to consolidate our communications with our constituents and provides us with a framework to add new services and content on the fly," said Sean Simpson, Manager of GIS for the City of Surrey. "This will allow us to provide superior service on a day-to-day basis."
Purple Forge, the leading provider of citizen engagement mobile applications to cities, counties and governments in the US and Canada, provides the mobile application services for the City of Surrey. Purple Forge has deployed mobile applications to a number of smart cities and counties, including the cities of Mississauga and Ottawa and Sonoma and Denver county.
"Surrey's initiative to consolidate all of its mobile initiatives into a single application, and linking those capabilities highlights the best practices for the next generation of mobile smart cities," stated John Craig, VP Sales and Marketing of Purple Forge. "Simplifying communications to the public along with the flexibility to expand services on-demand makes their approach ground-breaking."
About Purple Forge
Purple Forge sells subscription based services to organizations looking to engage their stakeholders using the latest mobile application technology and leveraging community engagement and social networking best practices. Purple Forge is an award-winning firm led by seasoned mobile communications and Internet technology veterans. Our mobile applications allow organizations to broadcast, share, and receive feedback from their target audience real-time, allowing them to foster long-term, engaged relationships.
Contact: John Craig, john(dot)craig(at)purpleforge(dot)com
About the City of Surrey
Surrey is the 2nd largest city in BC and the 12th largest city in Canada with a population of over 468,000. And we're still growing. We're set to become the most populated city in Metro Vancouver by 2020, as people from around the world continue to move to one of the youngest and most culturally diverse cities in Canada.
Contact: Oliver Lum, 604-591-4519