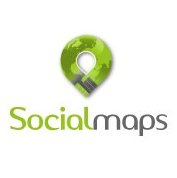 Socialmaps elegantly unites social and location, and delivers a real-time, integrated view of the information users really want. Martin Adonis CEO& Founder
STOCKHOLM, SWEDEN (PRWEB) September 08, 2014
Emerging mobile social discovery platform Socialmaps is the first app to fully leverage the power of location-based services and social media. Developed in Sweden, Socialmaps recently surpassed more than 1 million posts from users across the world. The free app – available for iOS and Android – is now set to make it's U.S. debut at this week's Techcrunch Disrupt (September 8th -10th ). Socialmaps can be found in the Nordic Pavilion.
Want to know what your friends and colleagues are up to nearby? Socialmaps integrates feeds from Facebook, Twitter, Instagram, G+ and Foursquare, and posts real-time status updates directly to the user's map, delivering instant push notifications whenever friends are nearby.
CEO and co-founder Martin Adonis formerly worked at a number of social media companies including Google. He challenged the Socialmaps team to help him to find a more efficient way to stay connected with the global business community as they traveled from city-to-city, for short visits and on tight schedules.
Adonis said: "I got tired of constantly checking different apps to stay connected – while of course relying on maps to find my way around. Socialmaps elegantly unites social and location, and delivers a real-time, integrated view of the information users really want. Foremost, Socialmaps sends alerts when the friends who matter most are nearby, making it easy to arrange impromptu meetups. Even better, Socialmaps highly-engaged users get to enjoy their real-world interactions with friends and new places -- without forever checking their phones."
Socialmaps displays the locations and proximity of friends within a 500 meter radius, and also "pins" friends' status updates from the five leading social networks directly on the map. Users also have the option to make brand new connections with other Socialmaps users nearby, subject to their personal privacy settings. All participants have complete control over whom they choose to make their location visible, and privacy is the highest priority for the Socialmaps team. Options include the choice to share with selected friends only, or with user-curated groups such as family or classmates.
Socialmaps V 3.8 is optimized for iOS 8.
Socialmaps Application can be downloaded on the AppStore at http://bit.ly/1u4fpP1 and on Google Play at http://bit.ly/1twGZ94
** TechCrunch Disrupt SF 2014 is TechCrunch's sixth annual conference in San Francisco. The format combines top thought-leader discussions with new product and company launches. Morning executive discussions debate technology-driven disruptions in many industries, while the afternoons are reserved for the Startup Battlefield, where some 30 new companies will launch for the first time onstage, selected to present from numerous applications received from around the world. The winning company will receive a $50,000 grand prize and the Disrupt Cup at the conclusion of the conference. The conference is September 8-10, 2014 at the Pier 48, San Francisco, CA 94158.
PR Contact info:
Nikke Slight, nikke(at)app-promo(dot)com, 1-917-971-7169