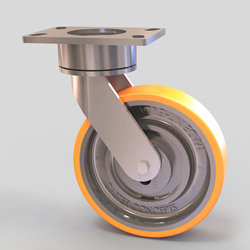 CasterShoX reduce factory noise levels from carts by as much as 15 dbA or 90 percent.
Albion, Michigan (PRWEB) September 09, 2014
Manufacturers and industrial workers the world over are realizing big benefits from a small, yet powerful, ally in the fight against factory noise and hearing loss, workplace injuries and the quest for increased productivity in material handling.
Caster Concepts' CasterShoX is a radical new line of shock absorbing casters that:

Reduce factory noise levels from carts by as much as 15 dbA or 90 percent;
Reduce shock loads by up to 80 percent, and;
Cost 20-50 percent less than conventional spring-loaded casters.
Additionally, these benefits are gained with no major modifications to carts, since the ultra-compact design allows for the shock-absorption technologies to fit within the current caster wheel footprint.
"Our manufacturing customers and end users, industrial workers, have told us they are concerned about work place noise and are looking for ways to reduce the noise workers are exposed to," said Bill Dobbins, President of Caster Concepts. "Extended exposure to higher levels of noise in the workplace has been proven to create a more hazardous work environment, which can lead to stress, hearing loss and fatigue. CasterShoX heavy duty industrial casters are designed to allow factories to transport optimum part counts to the assembly line while reducing work place noise and strain impact on workers."
CasterShoX's groundbreaking benefits were validated with a grant from the National Institutes of Health, which was impressed with the product's potential. The result? CasterShoX were proven to reduce noise sources by as much as 15 dbA – a magnitude of reduction that can have a significant impact in reducing noise-induced hearing loss. In fact, with federally-mandated continuous-exposure noise levels limited to 85dbA, CasterShoX can, on their own, bring a factory into compliance.
CasterShoX industrial caster wheels use a giant, super smooth deep groove ball bearing that guarantees superior roll-ability and ergonomics. The elastometric-based spring system that guides the movement of the suspension ensures that CasterShoX are both robust and long-lasting, while providing superior stability, noise rejection and vibration damping.
CasterShoX heavy duty casters are available in two standard sizes, 6×2 inch and 8×2 inch, and can handle anywhere between 500 to 1,500 pounds per wheel. CasterShox can be treaded with high quality Caster Concepts polyurethane ranging from 70A to 70D. Solid, high strength, glass-filled nylon wheels are also available. CasterShoX casters are available in single or dual wheel configuration and can be configured using the custom heavy-duty caster configurator available at CasterConcepts.com.
About Caster Concepts
Caster Concepts designs and builds industrial casters and wheels for virtually any application. ISO 9001-201010 certified, Caster Concepts manufactures heavy duty products to withstand impact, corrosion, temperature extremes and industrial chemical environments. Caster Concepts' multi-functional casters and wheels provide solutions in industrial, automotive, aerospace, material handling and many other demanding markets.
For further information on the entire family of Caster Concepts companies – CasterShoX, Conceptual Innovations, Conveyor Concepts, Fabricating Concepts, LARCASTER, Reaction Industries, The Machine Center, Triple E Manufacturing, or Modern Suspension Systems, please call 517-629-8838 or visit http://www.CasterConcepts.com