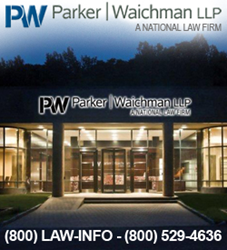 Port Washington, New York (PRWEB) September 10, 2014
Parker Waichman LLP, a national law firm dedicated to protecting the rights of victims injured by defective drugs, is commenting on an Alabama Supreme Court ruling that may hold brand-name manufacturers liable for injuries caused by generic versions of its drugs. The American Association for Justice reported this month that the Alabama Supreme Court is the first state supreme court to make this ruling.
According to Parker Waichman LLP, brand name manufacturers should be held liable for generic drug injuries when the label makes misleading claims. "We support the court's decision, and believe that drug companies should be held responsible for misrepresenting a product," said Gary Falkowitz, Managing Attorney at Parker Waichman LLP. "Because the law mandates that generics carry the same label as the brand-name, misleading claims on a brand name label automatically affect patients taking generics as well." The firm offers free legal consultations for consumers who were injured by defective drugs.
The American Association for Justice reports that Danny Weeks sued after developing tardive dyskinesia from metoclopradmide, the generic version of Reglan; the drug is used to treat chronic digestive problems. Five current and former manufacturers of brand-name and generic versions were sued by Weeks and his wife (Wyeth, Inc. v. Weeks, 2014 WL 40585813 (Ala. Aug. 15, 2014)). Brand-name drug makers made efforts to dismiss the case, asserting that they had no obligation to warn about the risks of generic drugs. The court ruled early last year that brand-name drug companies may face lawsuits over allegedly making misrepresentations.
According to AAJ, the Alabama Supreme Court focused its ruling on the intermediary doctrine, which states that manufacturers only need to inform doctors of a drug's risks to fulfill its duty of warning users. Judge Michael Bolin, who wrote for the majority, stated that, "when the warning to the prescribing health care professional is inadequate, however, the manufacturer is directly liable to the patient for damage resulting from that failure," Bolin said that Week's doctor would use Wyeth's misrepresentation because the law requires generic drugs to carry the same label as the brand-name version. "An omission or defect in the labeling for the brand-name drug would necessarily be repeated in the generic labeling, foreseeably causing harm to a patient who ingested the generic product," he stated. Bolin, who wrote the original majority opinion, pointed out that the ruling only applies to prescription drug manufacturers.
Parker Waichman LLP continues to offer free legal consultations to victims who have suffered adverse health effects after using medications. If you or a loved one experienced an adverse reaction after taking a generic medication, please contact the firm by visiting yourlawyer.com. Free case evaluations are also available by calling 1-800-LAW-INFO (1-800-529-4636).